If you have a visual child, using these pictures on their schedule will help them learn to become more independent.  I used them for a Daily Schedule for Toddlers which I made and laminated for use on the refrigerator, but there are many ways you can use them for your children.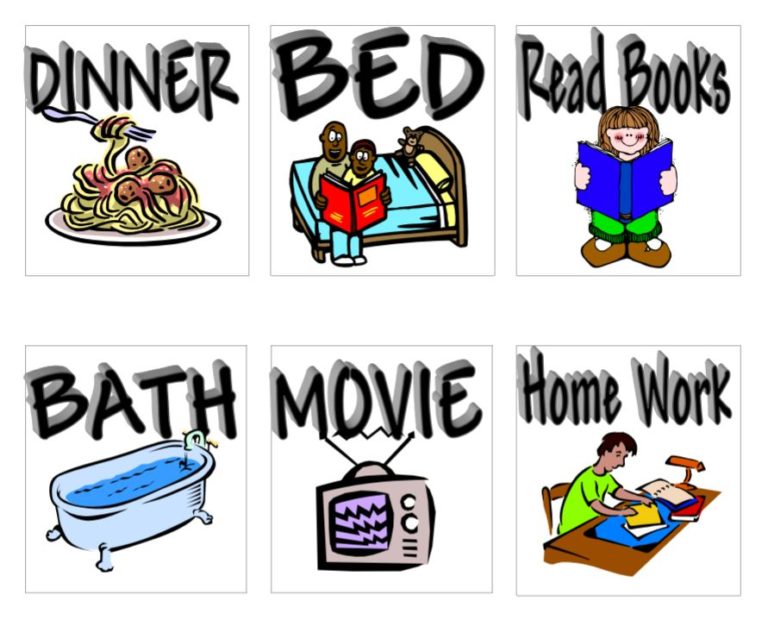 Print Free File:
Daily Schedule for Toddlers ~ After School Pictures (14959 downloads)
After School Images:
Bath
Bed
Brush Teeth
Dinner
Ear phones
Homework
Movie
Outside
Play time
Read Books
School
Walk
X-box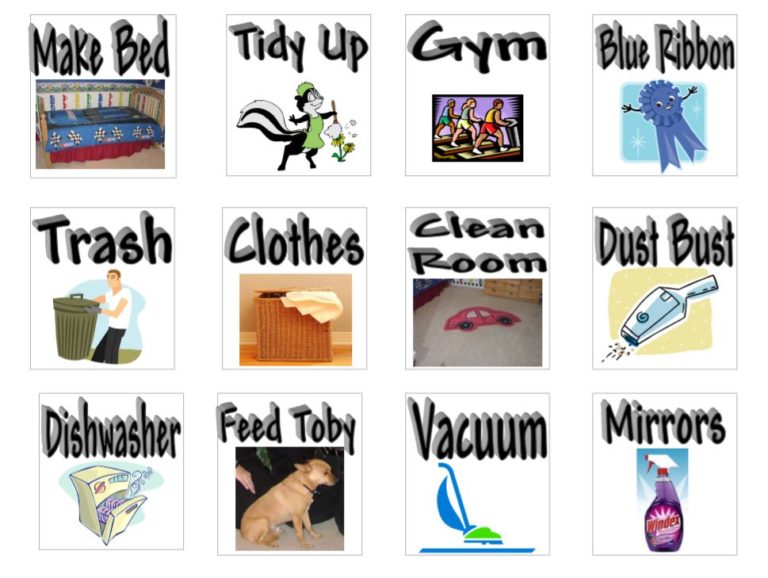 Print Free File:
Daily Schedule for Toddlers ~ Chore Pictures (6165 downloads)
Use these pictures for a chore chart or daily schedule, or make your own.
Chore Images:
Clean Room
Chore $
Chore Chomper
Clothes
Dishwasher
Dust Buster
Feed Dog
Make Bed
Make Snack
Mirrors
Tidy Up
Trash
Vacuum
Gym
Blue Ribbon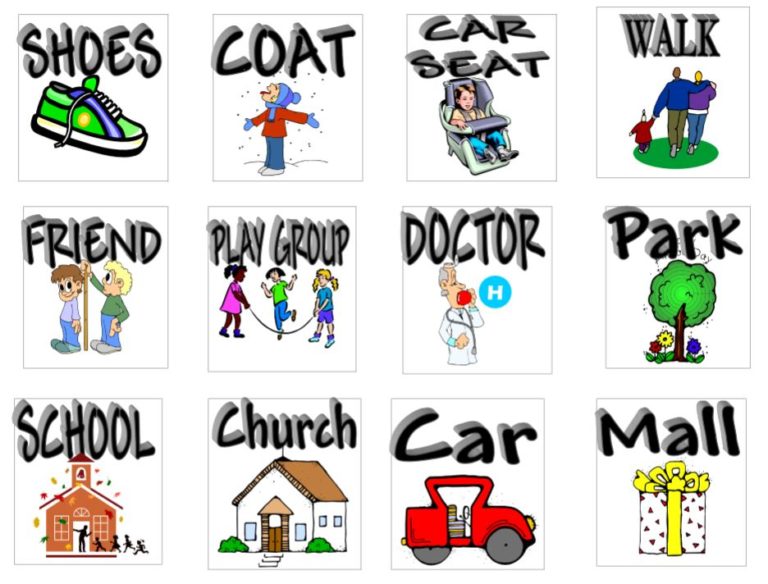 Print Free File:
Daily Schedule for Toddlers ~ Going Places Pictures (6055 downloads)
Going Places Images:
Car
Car Seat
Church
Coat
Doctor
Elementary School
Friend
Gym
Mall
School
Park
Play Group
Pre-school
Run Errands
Shoes
Tae Quan do
Walk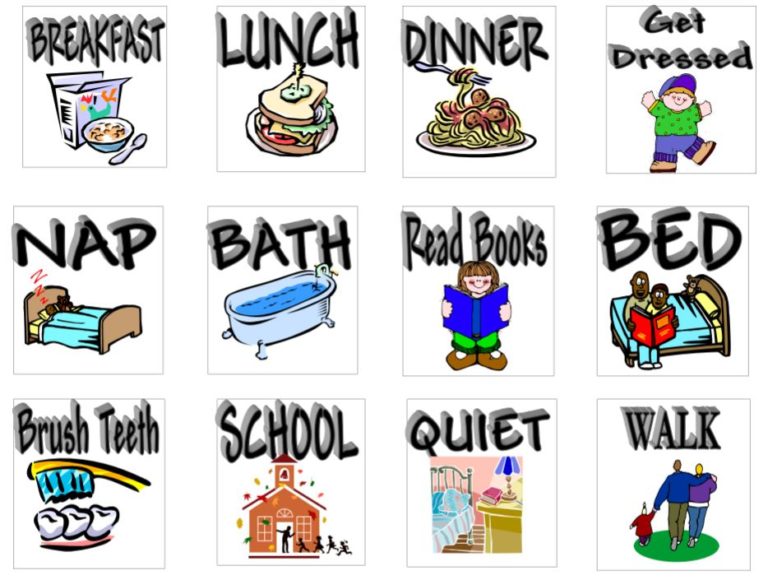 Print Free File:
Daily Schedule for Toddlers ~ Routine Pictures (6173 downloads)
Routine Images:
Baby Loony Toons
Bath
Bed
Blue's Clues
Breakfast
Brush Teeth
Caillou
Dinner
Dora
Family Home Evening
Get Dressed
Homework
Lunch
Max & Ruby
Movie
Nap
Quiet
Read Books
School
Tom & Jerry
Vitamin
Walk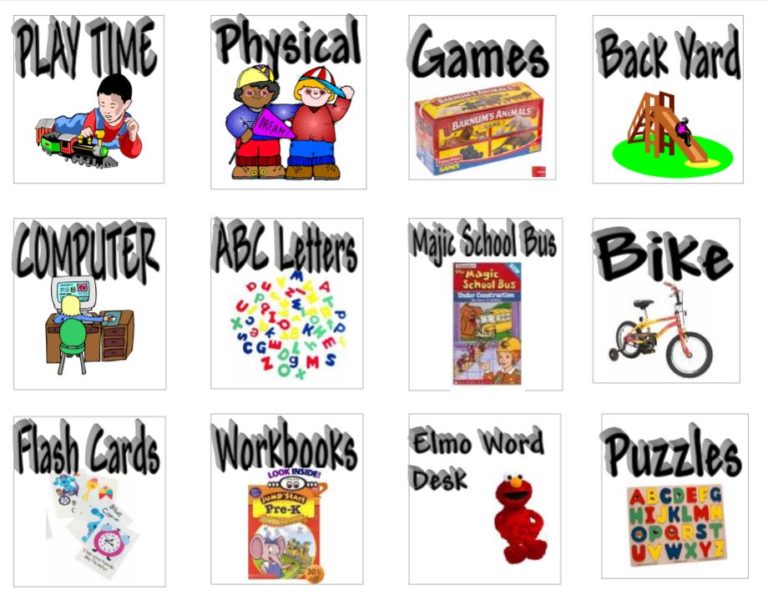 Print Free File:
Daily Schedule for Toddlers ~ Play Pictures (6278 downloads)
You can use these pictures of toys to organize bins or for a daily schedule.
Toy Images:
ABC Letters
ABC Music Cubes
Airplanes
Animals
Alphabug
Back Yard
Ball Pit
Baseball
Basketball
Bike
Blue's Computer
Cars
Car Garage
CD
Chalkboard
Church Folders
Color
Computer
Draw
Dress Up
Drums
Ear Phones
Elmo Word Desk
Finger Plays
Flash Cards
Friend Over
Games
Golf
Gymnastics
Helicopter
Horse
Ice Mountain
Jeep
Justice League
Kitchen
Leap Pad
Learn
Legos
Light Bright
Lincoln Logs
Little People Barn
Magic School Bus
Magnadoodle
Mailbox Letters
Marching
Mozart Blocks
Mr. Potato Head
Paint
Playdough
Play Time
Play Time with Daddy
Physical
Pretend Food
Print out Pages
Puzzles
Remote Control Truck
Rescue Heros
Sing
Soccer
Spiderman
Surprise Box
Tank
Train
Workbooks
X-box
I hope these help!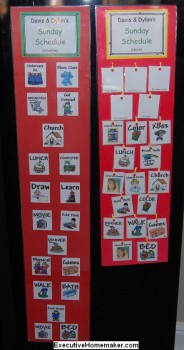 Print Free File:
[Download not found]
How to use these pictures to make a Daily Schedule for Toddlers or Preschoolers.
P.S.  Join the conversations over on the Tip Junkie Facebook page.  It's a great place to ask questions on how to make things or for specific tutorials you need.
Promoting creative women through their tutorials,

craft rooms,

  and products.

~ Laurie  {a.k.a. the Tip Junkie}