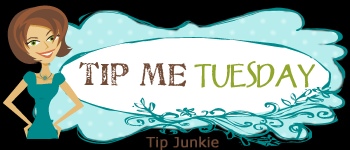 It's Tip Me Tuesday, where you can show off your creative tips and projects which enters you to win a fabulous prize! If you wan to know why I created Tip Me Tuesday, feel free to watch my video. You can check out all the Tip Me Tuesday winners page.

Pattern Designer by night and Mom to 4 by day! Sharing my DIY ideas, fun activities for kids and photography.
1.  Fabric fortune cookies
2.  Crafty summer series
3.  Desk & Chair makeover
Blog:  Brassy Apple
Shop
Twitter

Pumpkin Petunia designs custom stationery and party products and Jo-Ann always has a party on her mind. Her blog is a chronicle of those parties and the life that happens in between.
4.  St. Patrick's Day card – free printable
5.  Pretty dress party
6.  Girl, you rock party
Blog:  Pumpkin Petunia
Follow on Facebook

Based in France, Chichiboulie specializes in personalized artwork and decorations for children and babies.  Colors designs and whimsical motifs are a hallmark of Chichiboulie's products which include wall art as well as paper goods, stamps, and fabric accessories.
a.  Calico Bird – Personalized Print for Girls, £22
b.  Beautiful Bunting – Personalized Print for Boys, £22
c.  Writing Set – A Little Bird Told Me, £10
Shop:  Chichiboulie
Follow on Facebook
Twitter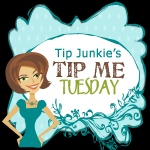 The lucky winner will receive a Les Bonbons personalized painting, £60.
Next Tuesday, I will pick one MckLinky participant randomly.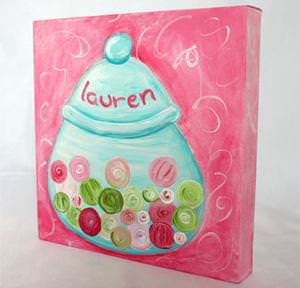 All bloggers are welcome to link a post to win a fabulous prize from a Tip Junkie Mom-preneur. Contest ends Friday at midnight.
Type in your blog name – then the tip. It makes it easy to read & will bring more traffic!

Example link:

Tip Junkie – Jewelry Organizer
Please link to your direct post. We can't find your project if you don't link right to it.
Add the Tip Me Tuesday button to your post, required to win.
A Bonus Winner

To encourage uniting our community, choose 3 entries next to yours and leave a lovely comment. I will pick a random commenter who will receive a FREE 6 month membership to the Visit Our Peeps widget. (no strings & no obligation.) Whoohoo!