This darling plushie pattern can be made into any of these darling farm friends. Here are pictured instructions on how to sew toy balls made into these darling farm animal plushie patterns.  They are perfect for a baby or toddler and would make the most fabulous homemade gift.
Plushie Pattern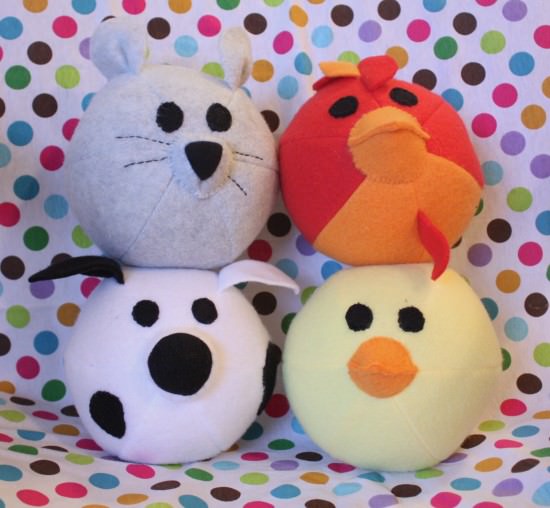 We are gearing up for a new baby here at our house, and this baby will be the first little boy in the family. I am so excited, and so are his big sisters! Since I love to sew, I wanted to give this baby something fun to play with while his sisters are playing fashion show with their Barbie dolls… and plush, toy balls were the first on my list! But fabric balls? Been done before. Why not take the extra step and make them into a set of farm friends?
Supplies for Plushie Pattern:

Fleece, 1/4 yard cuts of assorted colors
Sewing Machine
Hand Sewing Needle
Coordinating thread
Polyfill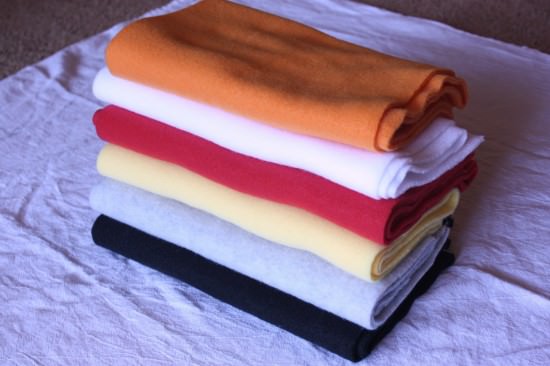 Using your templates, cut out your shapes from your fleece. Be sure to line up the ball pieces along the bias. This is the diagonal of the fabric, and will help your ball be more of a ball instead of an egg.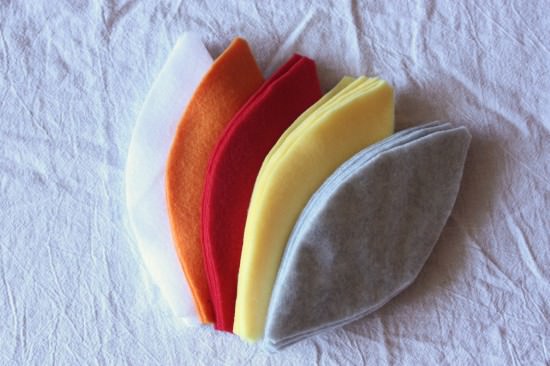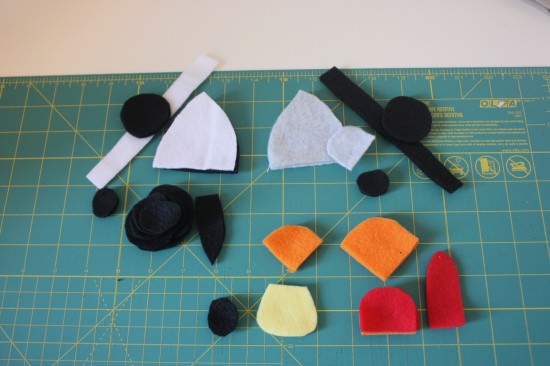 For the Chick, Cow, and Mouse, pin two of the ball pieces together, end to end. Begin sewing 1/4″ from the end, and stop sewing 1/4″ from the other end. Use a 1/4″ seam allowance.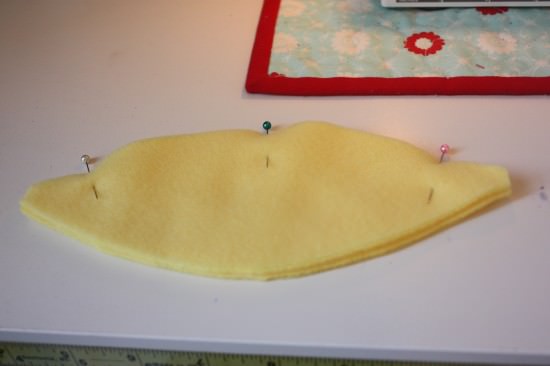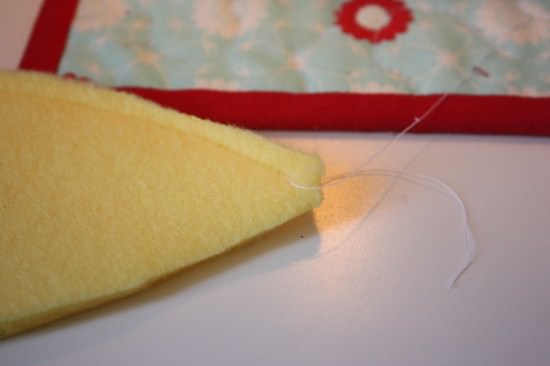 Add another piece, sewing with the same 1/4″ instructions, so you end up with a set of three pieces. Put this aside.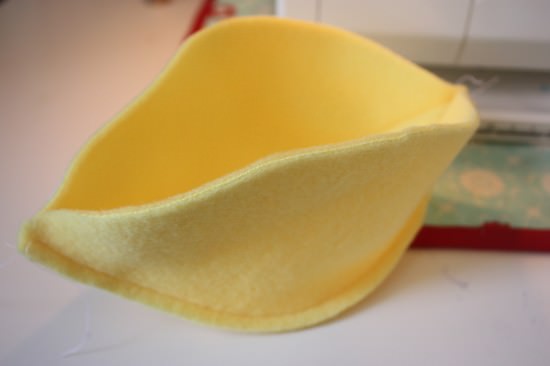 The mouse and cow will need their ears set next. Fold your cow ears in the center like the template shows, and fold the mouse ears so the corners line up.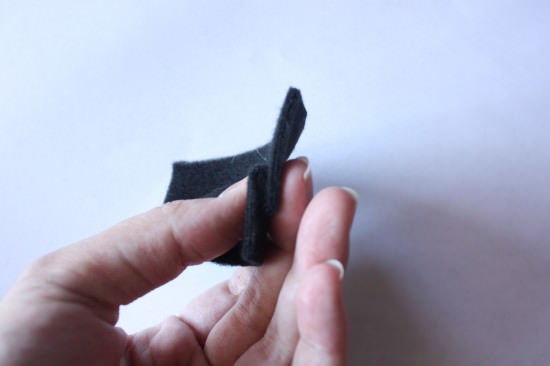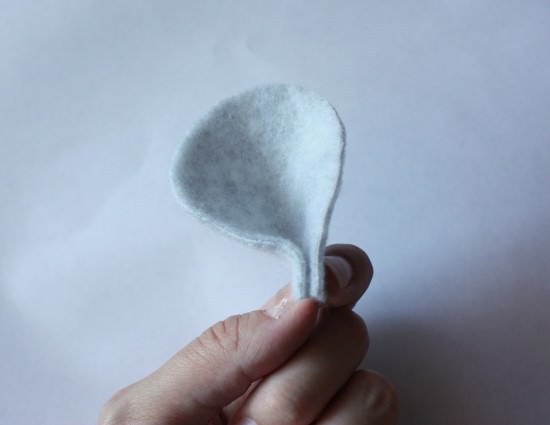 so when you grab your two ball pieces, place an ear between the pieces. Sew together. Add the other ball piece with the other ear sandwiched in between. Sew together. Here it is turned right side out (although, at this point I hadn't decided they were going to be mouse ears!):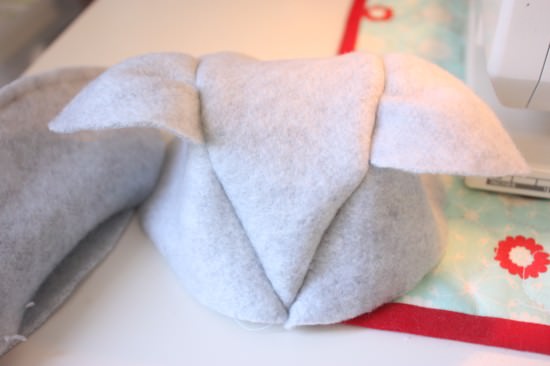 For the Rooster, sew two red pieces, and then one orange to make your set of three.
Now you will insert the shape that will make the tails, rooster feathers, and red wobbly thingy. The feathers go between the red ball shapes, and the wobbly thing (what is that called???) between the orange.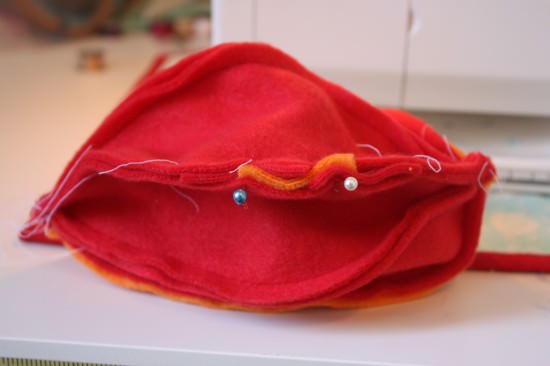 Repeat this technique for the tails of the other animals, inserting the tail at one end where the points all meet.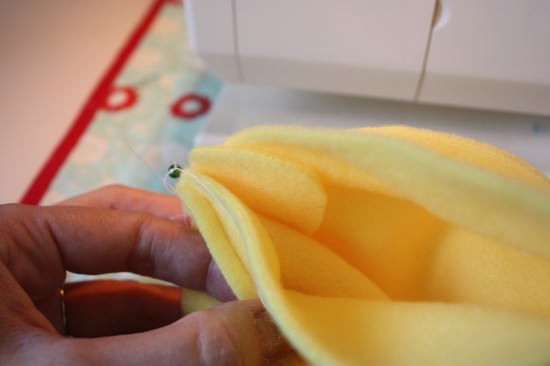 Sew around the entire ball, leaving a 3″ opening for turning along one of the sides.
Stuff with stuffing, as firm or as soft as you like. For a more musical experience, put a cat jingle ball toy in as you are stuffing. I get mine at Wal-Mart for cheap. (My husband vetoed the jingle experience this time. Sometimes you just need quiet!)
Hand-stitch your opening closed with a coordinating thread.
Time to embellish! Noses (and beaks) first!
Sew your beak pieces together along the 90 degree angle. Stuff with a little bit of stuffing, and hand-stitch to the center of the Chick and Rooster' faces.
For the cow, cut a 6″ x 3/4″ piece of white fleece, and for the mouse, cut a 4 1/4″ x 3/4″ strip of gray fleece. Sew each long strip piece with short sides together with a 1/4″ seam allowance. Pin to the nose piece and sew carefully around.
Turn right-side out, stuff, and hand-sew to the center of the animal's face.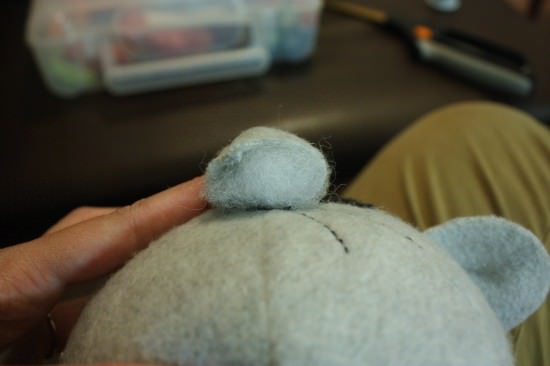 For the cow, I hand-stitched on the spots using regular thread and a blanket stitch. It is totally unnoticeable, though! So much for cute stitching.
Hand-stitch the eyes on all your farm friends, and you are done! Although, the first thing my husband said after I showed him these guys was, "Where's the pig?" I guess I'm not done after all!!
And even though these were made for little brother, the girls have been having a real ball with them. Pun intended.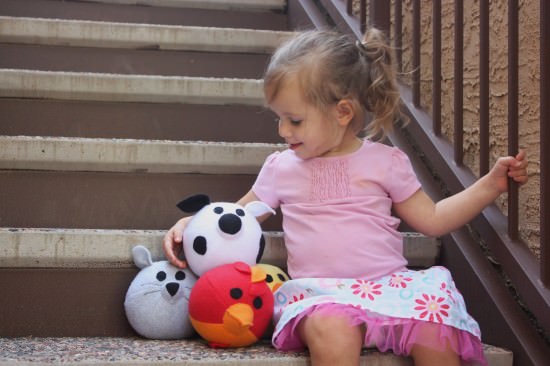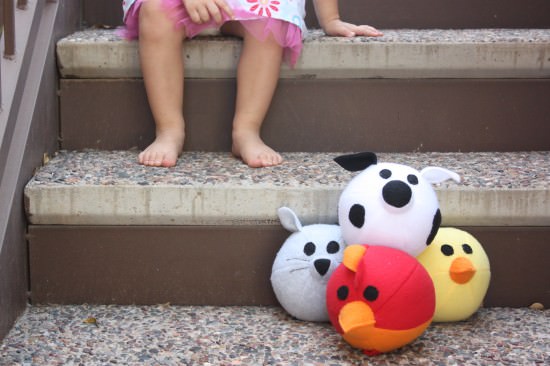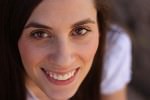 Melanie is the creator/author/sewing dork behind the Crafty Cupboard. She's been sewing most of her life, but has latched on to it as a source of sanity ever since having her first kiddo 4 ½ years ago. She loves vintage Pyrex, Nutella, and Pop Secret popcorn, and will sing for you on request. She is allergic to dishes, laundry, and mopping. She currently lives in Arizona with her 2 ½ children and a very handsome husband.