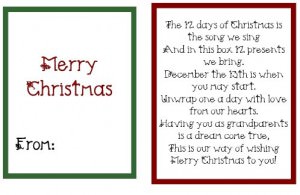 12 Days of Christmas – Gifts
1. Photo Album
2. Ornament
3. Red, White, & Blue Pens
4. Video of your family singing "We wish you a Merry Christmas"
5. Five rolls of lifesavers
6. Six candy canes
7. Towels (christmas or bath towels)
8. Milk Duds
9. Slippers
10. Salt City Candle
11. CD
12. Family Calendar
The 12 days of Christmas is the song we sing and in this box 12 presents we bring. December the 13th is when you may start. Unwrap one a day with love from our hearts. Having you as grandparents is a dream come true, This is our way of wishing Merry Christmas to you!
December 13th: Day One A partridge in a pear tree How boring is that! Our boys are much prettier The way they are sat. Fill the rest of the album With the old pictures you've got, It will make a great keepsake 'Cuz you are loved a lot!
December 14th: Day Two Two turtle doves are very rare and nowhere could I find a pair. But ornaments add beauty to your tree, and commemorate the past year with thee.
December 15th: Day Three I did get French hens, But then hungry I got. So I ended up cooking them In a great big pot So three fine pens will have to do, In France's colors of red, white, and blue.
December 16th: Day Four Four calling birds What's with those wings? Instead here's a video With four Turks that sing.
December 17th: Day Five Five golden rings That's rather extreme. We love you dearly, But that much money's a dream! Five golden rings? What could I do? Family is golden, As I'm sure you've been told, and they're your lifesavers When you're young or old. So 5 lifesavers is better than rings. Where I got out of that one! I'm getting good at these things.
December 18th: Day Six Six geese a laying *Sigh* We're back to those birds! I tried stealing their eggs But their cries could be heard. So I gave up and went to the grocery store. and bought some candy canes (Eggs where too hard to store).
December 19th: Day Seven Seven swans swimming But the water was so cold I couldn't catch them, I couldn't grab hold. So here's some towels To dry your hair. Use them when you go swimming and chase swans if you dare.
December 20th: Day Eight Eight maids a milking Silly women don't they know Milk comes from a store Geez they are slow! But bilk duds are yummy All rolled in a ball. and sold in a carton More than 8, that's a haul!
December 21sth: Day Nine Nine Ladies dancing they put on a show. Their feet got so tired So wouldn't you know, I'm sending some slippers for soothing your feet They're comfy and cozy and all wrapped up neat!
December 22nd: Day 10 Ten lords leaping, Wonder if they could reach the stars? I don't know but they liked candles The ones put in jars. Salt City, the Lords told me, Are the very best Go ahead and burn it Put it to the test.
December 23rd: Day Eleven Eleven pipers piping Oh, how they're hurting my head. They gave me such a headache I had to go to bed. Music should be soothing A listening pleasure So here's a CD For you to treasure.
December 24th: Day Twelve Twelve drummers drumming That would be quite the site I don't know any musicians and that is my plight. But there are 12 months in every year So, here's a calendar to make the kids seem near. Each day that you write what you are to do, Please be reminded how much we miss you!

Print Free File: Download