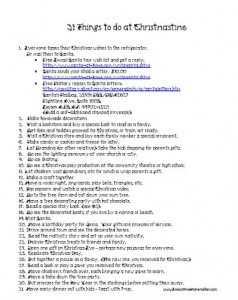 31 Things to do at Christmas Time
1.   Everyone tapes their Christmas wishes to the refrigerator.
Or mail them to Santa:
• Free E-mail Santa tour wish list and get a reply
• Santa sends your child a letter.  $10.00
• Free Military replies to Santa letters:
Santa's Mailbag, 354th OSS/OSW2827
Flightline Ave. Suite 100B
Eielson AFB AK 99702-1520
(Add a self-addressed stamped envelope)
2.    Make homemade decorations
3.    Visit a bookstore and buy a special book to read as a family.
4.    Get dolls and teddies groomed for Christmas, or train set ready.
5.    Visit a Christmas store and buy each family member a special ornament.
6.    Make candy or cookies and freeze for later.
7.    Let Grandma (or other relative) take the kids shopping for parents gifts.
8.    Go see the lighting ceremony at your church or city.
9.    Go ice skating.
10.  Go see a Christmas play production at the community theatre or high school.
11.  Let children visit Grandma's, etc for lunch a wrap parents a gift.
12.  Make a craft together
13. Have a music night, sing carols, play bells, triangles, etc.
14.  Pop popcorn and watch a special Christmas video.
15.  Go to the tree farm and cut down your own tree.
16.  Have a tree decorating party with hot chocolate.
17.  Read a special story book. (see #3)
18.  Go see the decorated boats, if you live by a marina or beach.
19. Visit Santa.
20.  Have a birthday party for Jesus.  Your gifts are promises of service.
21.  Drive around town and see the decorated homes.
22.  Read the nativity story and set up your own nativity.
23.  Deliver Christmas treats to friends and family.
24.  Open one gift on Christmas Eve – perhaps new pajamas for everyone.
25.  Celebrate Christmas Day.
26.  Put together a puzzle as a family.  (Maybe a new one you received for Christmas.)
27.  Read a book or play a game you received for Christmas.
28.  Have children's friends over, each bringing a new game to learn.
29.  Have a take down the tree party.
30.  Put promises for the New Year in the stockings before putting them away.
31.  Have early dinner out with kids – toast with 7-up.

Print Free File: Download