Here are 8 cards that have the meanings of the most used symbols of Christmas. Print out these cards, glue to red card stock, and laminate.  You also print out two of each card and use them as a memory game to play with your family.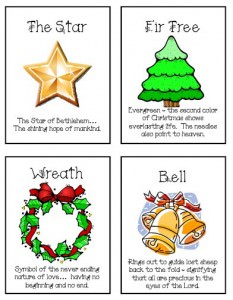 Print Free File:
8 Symbols of Christmas (8990 downloads)

Gift Bow – Tied as we should all be tied together in bonds of good will.
Candle – A mirror of starlight reflecting the Star of Bethlehem.
Candy Cane – The Shepherd's crook used to bring labs back into the fold.
Red – The first color of Christmas symbolizing the Savior's sacrifice.
The Star – The star of Bethlehem… the shining hope of mankind.
Fir Tree – Evergreen is the second color of Christmas shows everlasting life.  The needles also point to heaven.
Wreath – Symbol of the never ending nature of love… having no beginning and no end.
Bell – Rings out to guide lost sheep back to the fold – signifying that all are precious in the eyes of the Lord.