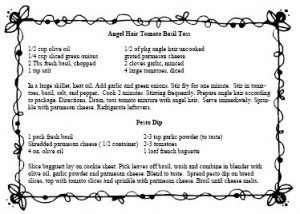 This is an alternative to the traditional goody plate usually done during the holidays.
Print this recipe (or one of your own) onto red paper. Tie raffia around a bag (or box) of angel hair pasta and attach the recipe card. Done! You have a useful and fun gift for neighbors.
Angel Hair Tomato Basil Toss
1/2 cup olive oil
1/2 of pkg angle hair uncooked
1/4 cup sliced green onions
grated Parmesan cheese
2 Tbs fresh basil, chopped
2 cloves garlic, minced
1 tsp salt
4 large tomatoes, diced
In a large skillet, heat oil. Add garlic and green onions. Stir fry for one minute.  Stir in tomatoes, basil, salt, and pepper.  Cook 2 minutes. Stirring frequently. Prepare angle hair according to package. Directions. Drain, toss tomato mixture with angel hair.  Serve immediately. Sprinkle with parmesan cheese. Refrigerate leftovers.
Pesto Dip
1 pack fresh basil
2-3 tsp garlic powder (to taste)
Shredded Parmesan cheese ( 1/2 container)
2-3 tomatoes
4 oz. olive oil
1 loaf french baguette
Slice baguette lay on cookie sheet. Pick leaves off basil, wash and combine in blender with olive oil, garlic powder and Parmesan cheese. Blend to taste.  Spread pesto dip on bread slices, top with tomato slices and sprinkle with Parmesan cheese. Broil until cheese melts.

Print Free File: Download