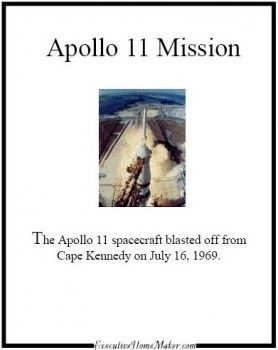 My oldest son loves rockets!  I made him this small booklet so he could learn more about it.
Apollo 11 Mission
The Apollo 11 spacecraft blasted off from Cape Kennedy on July 16, 1969.
Inside where 3 astronauts:
(L) Neil A. Armstrong Commander
(C) Michael Collins Command Module Pilot
(R) Buzz Aldrin Lunar Module Pilot
The Apollo 11 spacecraft had three parts: the Command Module, the Service Module, and the Lunar Module "Eagle".
Here is the Command Module with the Service Module on top.
The Apollo 11 Command Module "Columbia" carried astronauts the on their voyage to the Moon.
As the ship approaches earth, the command module is no longer needed. The command module separates from it. "Columbia" was the only part of the spacecraft to return to Earth.
This section of the Apollo spacecraft is designed to land on the Moon. It's called the is the Lunar Module "Eagle".
The astronauts moon-walked for three hours. They did experiments and picked up samples of Moon dirt and rocks.
The gold legs on the Lunar Module are used to land or "descend" to the moon. Only the silver ball goes back to the command module. The descent stage stays on the moon.
When Astronaut Neil Armstrong stepped on the moon for the first time he said, "That's one small step for a man, one giant leap for mankind."
After re-entering the earth's atmosphere. Apollo 11 splashed down in the Pacific Ocean where it was picked up by a Navy ship.

Print Free File: Download