I love a fun April Fools practical prank idea.  I've been searching the net and have found some cool ideas that you might enjoy as well for April Fools jokes.  Happy pranking!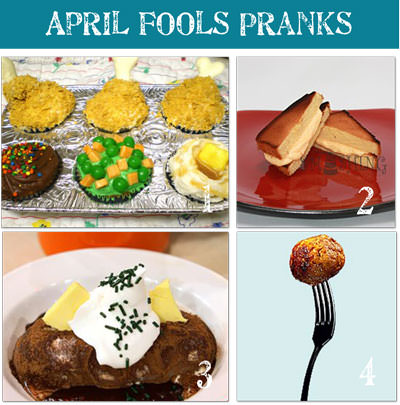 April Fool's Day Desserts
1.  Silly April Fools cupcakes – Several cupcake that are made to look like food or our not even cupcakes at all!
2.  Faux grilled cheese – A dessert made to look like a grilled cheese sandwich.
3.  Baked potato sundae's – This is a dessert made to look like a baked potato.
4.  Meatball suckers – An opposite dinner that looks like dessert and dessert that looks like dinner.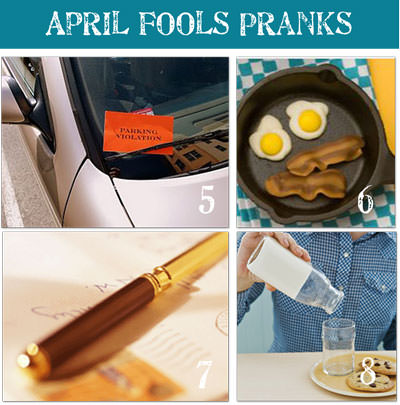 April Fool's Day Pranks
5.  Fake Parking Ticket – Several fun practical joke ideas that make pranks fun!
6.  Pranks from Family Fun – You'll find a ton of creative pranks.
7.  Fake letter to child's teacher – Write a fake letter to your child's teacher and fool them as well on this fun day.
8.  Pranks from Martha Stewart – The queen of craft has several tutorials and great ideas on how to make April Fools Day even more fun.
For some simple practical pranks to pull on your children you can:
Switch out food in wrappers in your child's lunch
Switch out drawers in dresser
Put salt on toothpaste
Switch out cereal in cereal boxes for breakfast
April Fools Prank Ideas from last year
Feel free to leave your prank ideas and blog post links in the comments.  This way we can all be inspired to do something great.  {{evil laugh}}
If you have an April Fools joke or prank over on your blog, we'd love to see it! Feel free to leave the blog link in the comments or on the Tip Junkie Facebook page or right here in the comments, and I'll be happy to find it and upload it for you! {{I've got your back!}}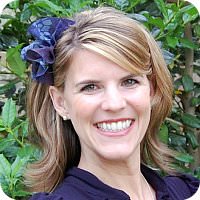 Creating Memories that Endure,
Laurie
I'm Linking to these Fabulous Women:
Skip To My Lou
Tatertots and Jello
Blue Cricket Design
Todays Creative Blog
Tip Junkie