Here are some of the baby shower ideas you have submitted and some I've found. So keep Submitting your old and new blog posts so I can feature you this week.
Kendra submitted her wild invitation, a jungle-themed baby shower invitation.
Heidi submitted her party favor. She included a picture of the baby with this poem on the back:
What a blessing, what a joy,
We get to celebrate Brady Roy…
Laughing, smiling, funny faces,
Finding out his ticklish places.
Cuddling up and wiggling toes,
Looking cute in tiny clothes.
Kisses and hugs are so much fun,
Making memories one by one.
– by Heidi Boos
Ashley hosted a baby shower for her sister in law with an asian theme. These were her party favors.
This is a cute idea for a party favor, attach a flower to a cupcake.
Nikki used mints and made a cute wrapper as her party favor.
Nikki also has some fun decorating, game, and diaper cake ideas on her blog!
Amy submitted her baby shower ideas. She has an invitation, decor, and even an "Oh Baby" banner.
I'm throwing a baby shower in a couple weeks and we're having a dessert bar. I'm so doing this! Yummy!
I found this over at Modern Vintage. I'm loving these place settings and table decor.
Kendra submitted her magnificent mobiles, a creative baby shower gift.
Are you looking for a unique gift for a baby shower? Shelice submitted her diaper and wipe bag. Now you won't miss place them and can store them both in a cute bag.
Who doesn't love a gift basket? Here Melissa went over the top with some personalized goodies. I'm loving the colors she choose.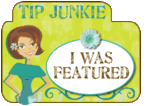 Thanks Ladies! If you don't already have an "I was Featured" button, feel free to copy the code and wear it proudly on your blog. These are fantastic ideas!
Are you looking for more baby shower inspiration? Check out my previous posts: