The Blogtique is offically over. WOW! Can you believe what amazing products these talented women make. I have truly been blown away and inspired by these lovely ladies.
I also want to thank all of you, Tip Junkie readers, for promoting the blogtique as well as taking the time to read, comment, place orders, and support these Mom-prenuers. There were a lot of posts this week and I thank you for taking your valuable time to read each one.
Since it was a busy week, here's a recap of all the Blogtiques:
For the Kids:
Creative Homemaker by Angela
Memories for Everyone by Kristi
Mostly Monkeys by Lisa
Yellow Fence by Shannon
Home Decor & Sewn Products:
Adhering Thoughts by Katie & Aubri
Angelica Grace Designs by Angie
Apostrophy by Tori8
Doodle Design Shop by Jenny
Good & Crazy People by Carissa
Holy Craft by Abby
Imperfect by Lindsey
Jackaroos Boutique by Jennifer
Lolly Jane Boutique by Kelli
Modern Pieces Custom Quilts by Mandy
Stickety-Doo-Dah by Sarah
Hair Accessories:
Annie's Bananies by Annie
Cherry Blossoms by Kiley
Colorful Kisses by Sarah
Jewlery:
Adorn by Emily
Beads by Amanda K
Charming Gifts by Colette
Chic Made by Nancy
Hazel Martin Designs
Queen Bee Designs by Amanda
Sparkle Thots by Ruth
Stef's Stuff by Stefani
Cards & Paper Products:
Blessings & Bows by Aubrey
Elizabeth Engelhardt Designs
Hand Picked Daisy by Jennifer
Inkredible by Julie
Scrapbooking Made Simple by Jamie

Other Great Products:
Sassy Rooster by Arlene
Simply Sweets by Dana
Mom-prenuers be sure to to get your Tip Junkie blog button to wear proudly on your blogs. You've earned it -these are all great products!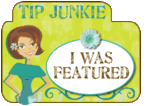 Just copy & paste the following code into your blog or website:
The purpose of this Blogtique is to feature unique, fun, and creative gifts you can purchase for your friends, family and yourself this year. Be sure to place your orders now and support these amazing women.
We'll do this again in October just in time for Christmas shopping!