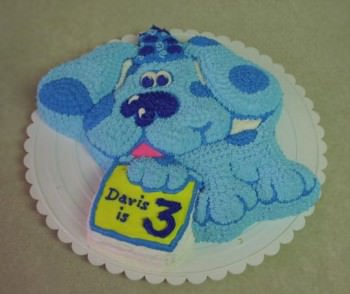 Dogs in a Blanket
Slice hot dogs lengthwise and cut cheese into strips. Unroll croissants and stuff them with hot dogs and cheese. Roll croissants back up and bake as directed, or unto golden brown.
Blue's Favorite Drink
Make fun ice-cubes by filling ice cube trays with water. Let trays stand at room temperature for an hour to remove the air bubbles. (Cloudy ice occurs when you use water from a running faucet, you want this ice to be as clear as possible.) Place the pieces of gummy, bite-sized candy (of the same color) in each section of the ice cube tray. The candy will dissolve slightly while freezing, tinting the cubes a soft pastel color. Prepare a blue beverage according to directions on the package. Pour the beverage into a punch bowl and add 2 litters of ginger ale. Chill the beverage for several hours before serving. When it's time to serve, place two or three gummy cubes into each clear glass and fill with punch.
Wiggly Jiggly Hounds ("Gigglers" w/ Jell-O)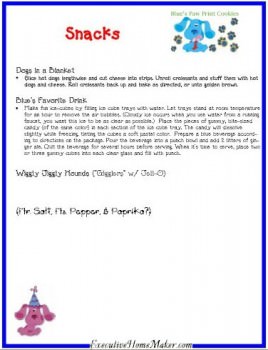 Print Free File: Download