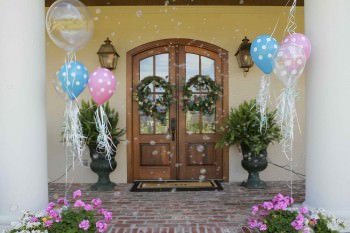 Here are some of the details on a bubble birthday party I threw my daughter.  It was so much fun!
Decorations:
For the decorations, I bought these pink polka dot and turquoise polka dot decoupaged buckets that were adorable. They'd be easy to make yourself w/some cute fabric and Modge Podge. They were the center pieces on a few tables that I had spread around our patio. I had pink, clear and turquoise polka dot balloons coming out of the buckets (found the balloons at Plates & Napkins.com) and had pink and turquoise table cloths on the tables (I bought the fabric a local fabric store). Everything was pink, turquoise and polka dotted. I made a banner that said "Happy Birthday Mae" with my Cricut that I hung where everyone could see when they walked out on the patio (picture attached). I had a candy table that went along with the "bubble" theme. I had pink and turquoise cake pops (picture attached) – I put those in a box that I wrapped with pink wrapping paper. I had pink marshmallows, pink whoppers, blue york mints, turquoise and pink M&Ms, and pink and turquoise "POP"corn (picture attached). They were all in clear glass containers. This was definitely a hit with all of the kids.
The invitation consisted of 2 round circles that we tied together with a bubble wand and polka dot ribbon. The wording said "Pop on over, Mae is turning 2" . . . (see attached for picture of the invite)
When the guests entered our house for the party, we had a bubble machine blowing bubbles at the front door. It was a hit with all of the kids! I also had 3 bubble machines in the backyard (from Target) blowing bubbles around our patio (picture attached).

Print Free File: Download
Cupcake/Cake:
I had another table with the cake and cupcakes. I had a 6" cake for my daughter that was a half bubble on top with a bubble wand on the side and little bubbles all around the edge. It was a pearl pink that was adorable (picture attached)! The cupcakes were pink and turquoise polka dotted and I had cupcake toppers on all of these with different messages "Happy Birthday Mae", "2" and "POP". See attached printables. On this table I had "Mae is 2" that I cut on my cricut that I put on lollipop sticks and stuck down into styrophoam in these cute containers that I decoupaged with polka dot paper (picture attached).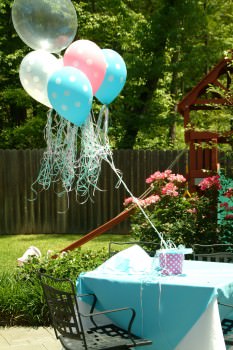 Food Table:
I had lunch for the kids since the party was at 11am. I had chicken nuggets from Chik Fil A which are always a hit! And "round" fruit kabobs with melon balls, strawberries, blueberries and grapes (picture attached). Everything was gone by the end so I guess it was good! My silverware was wrapped with polka dot napkins that had a sticker holding it together that said "Happy Birthday Mae" (see attached picture). I also cut out a big "2" and painted it pink and had this sitting on the table. (attached picture). I served pink and blue juice boxes for drinks for the kids.
Activities:
For the activities during the party, I filled my toy water table up with bubble solution and had a bunch of bubble wands for the kids to dip and blow bubbles. I also bought a bunch of battery operated bubble toys that blew bubbles. I also had a huge bubble wand that my husband used to blow enormous bubbles for the kids. I found this book online that explained how to make the big bubbles. You have to make your own solution for it to work properly. I also had a jumpy for the kids.

Print Free File: Download
Favors:
For the favors, I got pink and turquoise bubble wands at Walmart for $1.00. I also had someone locally make "Marshmallow Pops" dipped in pink and turquoise chocolate that were wrapped in cellophane and tied with a cute polka dot ribbon. I tied the two favors together and put on a cute tag that said "Thanks for Popping Over to My Party, Love Mae" (picture attached).
I love planning my kids birthday parties so putting together all the details was so much fun! Everything turned out perfectly (including the 70 degree sunny weather) and all the kids had a blast – especially my daughter! The "bubble" theme definitely suited the 2 year olds perfectly and even the older siblings that attended. I think kids of all ages love bubbles!
About the Executive Homemaker:
I am a stay at home mom of two children – age 2 and 4. I have been married to my wonderful husband 10 years this year. In my life before kids, I was a promoter for Ringling Bros. and Barnum & Bailey Circus and Disney On Ice which was a lot of fun! I got to travel all over the place and put smiles on kids faces on a daily basis. Since I've retired to as a stay at home mom, I seem to put that energy into my children's birthday parties. My husband thinks I'm crazy but I love putting together all the details – including finding the right color polka dot napkin on the internet. It gives me a challenge and a huge satisfaction when I see my children grinning from ear to ear.
Contact info: Eloise Graf
Graphics were done by MSN Creative