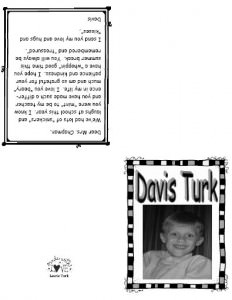 Put all the candy referenced in the letter in a gift bag.
If you use the card below:  Have your child draw a picture on the front and write his name inside the card.
Candy:
Snickers
Jr. Mints
Gummy Bears
Whoppers
Hershey's Treasures
Hershey's Kisses

Candy Thank You Letter
Dear Teacher,
We've had lots of "snickers" and laughs at school this year. I know you were "mint" to be my teacher and you have made such a difference in my life. I love you "beary" much and am so grateful for your patience and kindness. I hope you have a "whoppin" good time this summer break.  You will always be remembered and "treasured".
I send you my love and hugs and "kisses",

Print Free File: Download