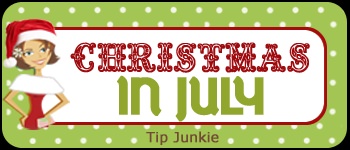 The Christmas in July was such a huge success! I can't thank everyone enough for all your participation as well as these lovely Mom-preneurs who so generously gave a product away to a fellow Tip Junkie.
As you shop the remaining of the year and during the holiday season, I hope you'll keep these fabulous products in mind! They would each make great birthday, anniversary, Grandparent, and Christmas gifts. I know that they would also really appreciate any referrals and kind blog posts to help them spread the word.
So without further ado, here are the winners of the Christmas in July Giveaways! Huge congratulations to everyone. If you didn't win, no worries – we'll do it again this October, for the 12 Days of Junkie.
Grand Prizes:
Monday, July 19th:
Tuesday, July 20th:
Wednesday, July 21st:
Thursday, July 22rd:
Friday, July 23rd:
Tuesday, July 27th:
Just a quick note, that Say It On The Wall is under new ownership. Please give her a chance to create her own reputation and earn the trust of her customers. Thank you for your support of all Mom-preneurs!
Wednesday, July 28th:
Thursday, July 29th:
Friday, July 30th:
Saturday, July 31st:
These are all fabulous women from the Tip Junkie Mom-preneur Shops. If you're looking for a product, please check there first. You won't be disappointed!

<a href="http://tipjunkie.net/shop" target="_blank"><img src="https://www.tipjunkie.net/images/mompreneurshops.gif" border="0"/></a>