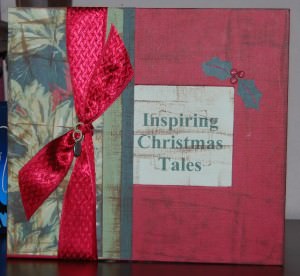 Christmas Story Album –  Here are instructions on how to make this elegant Christmas Story Album.
As a gift idea, you can make this 8×8 book to put in your favorite Christmas Stories.
How to Make:
I made this 8×8 Christmas Album years ago. As elegant as it looks, it was soo easy!! All you need is a red 8×8 album, 3 pieces of textured scrapbook paper, a red ribbon, a charm, 3 red small buttons, and brown ink pad.
* Simply cut the 3 pieces of scrapbook paper and glue onto the album in a layered look, see above.
* Take the brown ink pad and wipe it over the entire album. (It doesn't matter what direction.) Tie on the bow and attach the charm with "o" rings or whatever you have available.
* Cut out holly leaves from the extra dark green paper.
* Glue on 3 red buttons to complete the holly.
Include your favorite Christmas stories or print out some of these.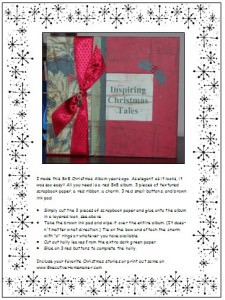 Print Free File: Download
P.S. Print out all of the stories at once and put them in the 25 Days of Christmas Book. Use it as a gift or read it together as a family.