Have a blast with your kids by making these adorable circus clown puppets made from ping pong balls!  It's a great kids craft and easier than it looks.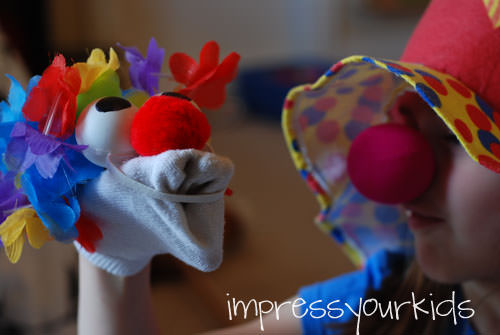 Not everyone can be a trapeze artist or a lion tamer. But everyone can be a clown! Especially if that clown is a puppet on your hand! This is a super easy craft you and your kids can put together in minutes but will be playing with for hours!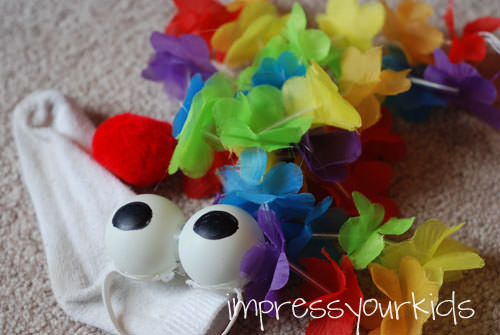 All you need is two ping pong balls, a small piece of elastic, glue gun (not pictured–oops!), a white sock, a red puffball and miscellaneous "costumes"!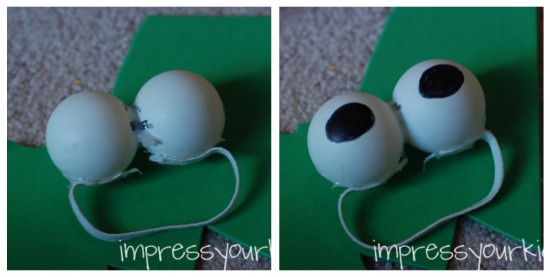 First glue your two ping pong balls together. Then, attach the elastic at the bottom, connecting the two and forming a big circle. Next, doll up your eyes a little with a marker (or, do like me and draw a plain old dot).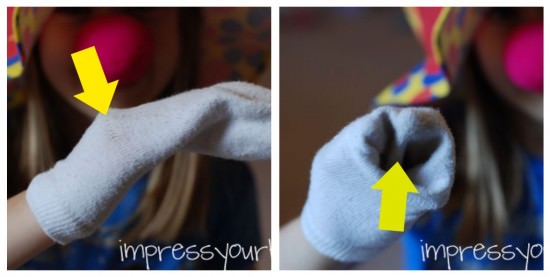 Now, it's time to suit up! Pull the sock onto your hand, placing the heel right across your knuckles. Stuff the toes back into your hand…er, the puppet's mouth!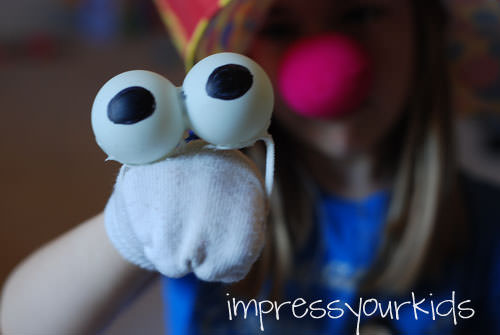 Slide on your ping pong ball eyes. Make sure your thumb is on the bottom and your fingers on top–with the elastic right in the middle. Pull the eyes back until they sit on your knuckles.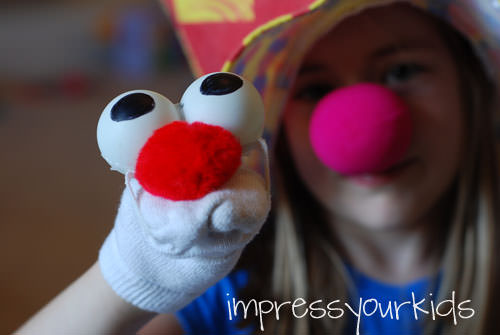 Add a nose (we used masking tape for easy costume changes).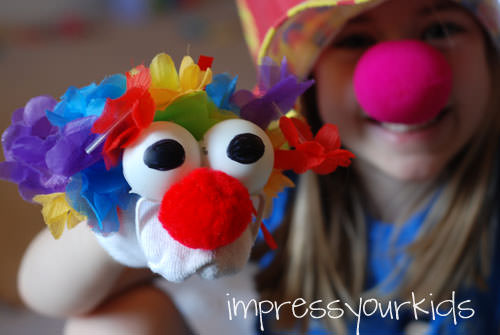 Then experiment with hair. My favorite was an old rainbow lei we folded in half and tied with a ribbon!

Feathers, curling ribbon and tulle were some of our other favorites!
Now your puppets can tell jokes, sing silly songs and generally clown around! Just think of all the different possibilities with these little puppets–you could add different hair, noses, add eyelashes, put on a hat and more! This is an easy puppet to match any play, song or theme!
Thanks for joining me in my little 3-ring circus! Don't forget to check out  my other circus-tastic posts:
Amanda is a stay-at-home mom of two who blogs at ohAmanda.com and Impress Your Kids. In her former life, Amanda was a Children's Pastor — overseeing, organizing and developing ministry for kids in nursery through middle school, but now that she is a mom, her "skills" are used up on her kids!