Make these easy Circus Homemade Costumes for your kids with stuff you have around the house!  The best party, they are a no-sew project.  Here are two pictured tutorials on how to make darling Circus Homemade Costumes as really creative Halloween costumes this year.
Homemade Costumes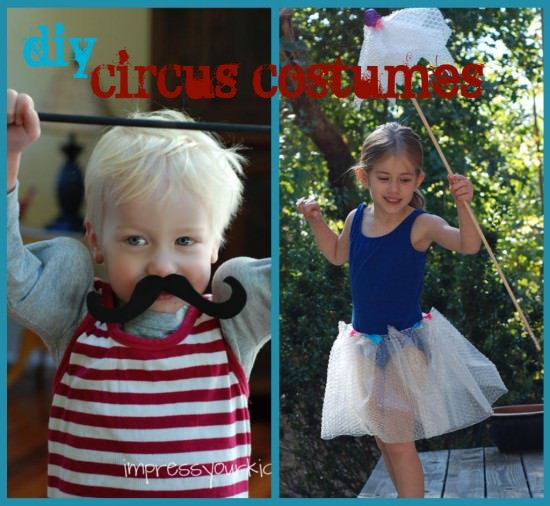 This week my husband was reading Pippi Longstocking to my daughter. We have Lauren Child
's gorgeously illustrated version and when we got to the chapter entitled, "Pippi Goes to the Circus", I got inspired! We had to make some costumes from the book!
And when I say "make", I mean piece together from other stuff we already have. I do not sew. I use things like glue, duct tape and maybe staples. So, if you're like me in your love for costumes but dislike for slaving over a sewing machine, these costumes are for you!
Now to get you in the mood…
Ladies and gentlemen! Children of all ages! In the center ring we have one of the great wonders of the world! He lifts thousands of pounds at a time, bends iron bars with his bare hands and has muscles on top of his muscles! Feast your eyes on The Strongest Man That Ever Lived!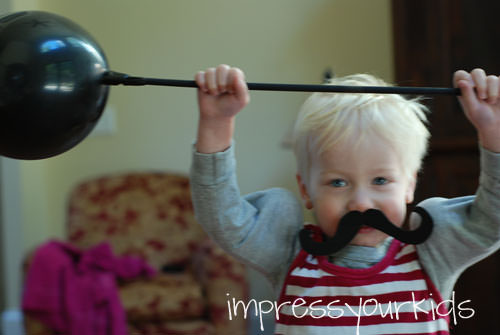 1.  The Strongest Man That Ever Lived

Can we stop for a minute and gush about how adorable my son is? *happy sigh* OK. Ready to make this costume for your little guy? It's easy!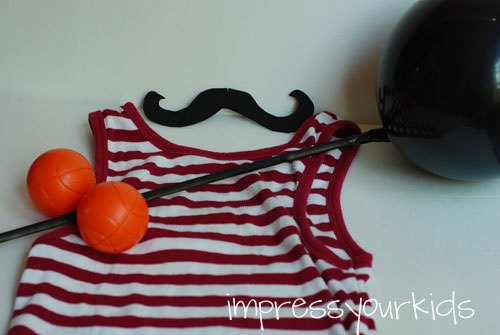 All you need is a striped tank-top, a long sleeved-shirt (not pictured), a couple of plastic balls to be muscles, a mustache and a barbell!
You probably have the shirts and the balls. So, put on the long-sleeved shirt first, then stuff the two balls in the arms to make some rippling biceps. Pull on the tank top for a nice vintage feel and your costume is halfway there!
Now let's talk about the mustache for a second…
I grabbed a piece of craft foam and drew as curly of a mustache as I could on it. (Need a template? Pinterest will save the day!) Then I cut it out and made the tiniest of slits at the very tip top of the mustache. This new little slit will clamp right onto the little piece of skin between your nostrils–what in the world is that called?! (Just make sure you don't pull it apart too much. If the slit gets too big, it will fall right off your nose!)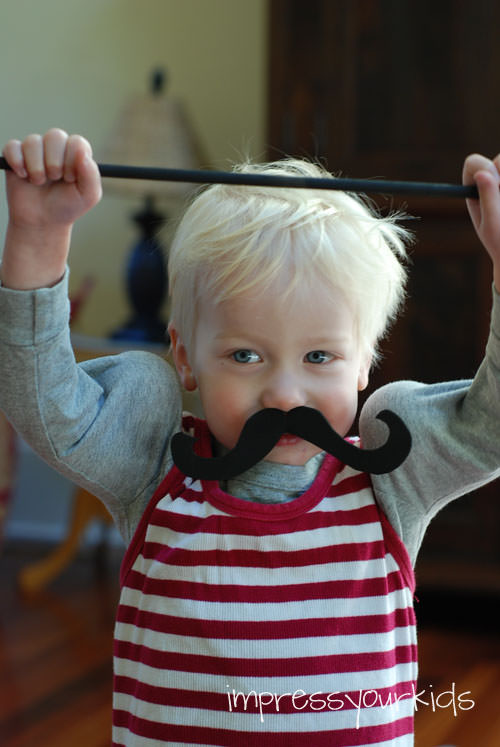 Now, for your barbells. All you need is a dowel rod (you can get these at a craft store for about 50 cents!) and two black balloons (which should be easy to find around Halloween!). Paint your dowel rod black (I used spray paint). Blow up the two balloons up to be round and equal to each other. Then use some black duct tape or electrical tape to tape the knot right to the ends of the dowel rod. They should stick out in the perfect position to resemble a barbell!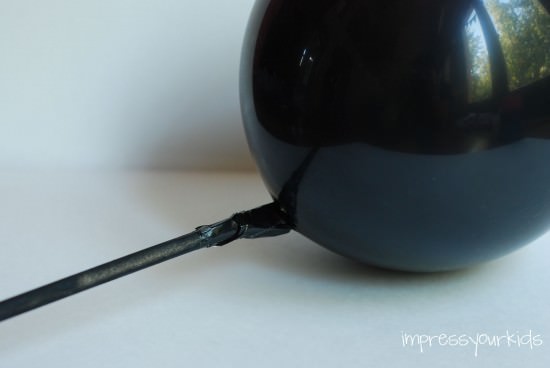 Now, let's see your best strong man pose!
Ladies and gentlemen, may I draw your attention to the ring in the center of the stage? You will be amazed at this young lady's daring acts and her beauty! Here she is, the Tightrope Walker!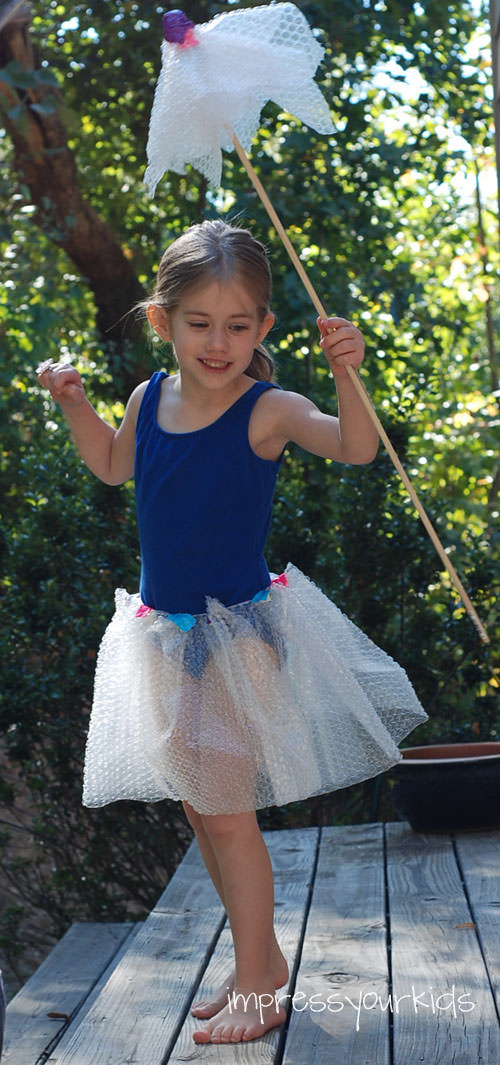 2.  The Tightrope Walker
I have always wanted to make something out of bubble wrap. I kind of obsessively collect it. I can't throw it away and most of the time I won't even let the kids pop them. I feel like there is something awesome I can do with it. And now I've done it! This bubble wrap skirt would be perfect for a princess, a fairy, a ballerina and more. But today, it's a tight-rope walker!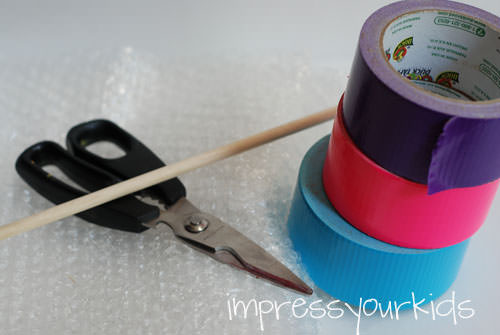 Now stick with me, it's much easier than it looks! All you need is some bubble wrap (mine was about 16″ high and maybe 6 feet long, but I'm pretty sure any scraps you have would work) and colored duct tape. And if you're going to make the balancing umbrella, you'll need another dowel rod.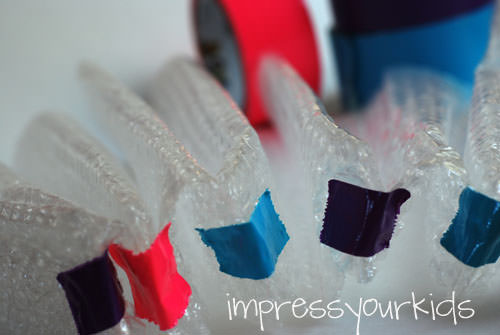 Start by folding your bubble wrap in an accordion fold (maybe 3 inches wide). After every 3-4 folds, fold over a small piece of tape on top. Continue until you've got a long enough section to wrap your new pleated bubble wrap around your tightrope walker's waist and fasten with another piece of duct tape.
It's as simple as that! And look how really cute it looks! My daughter wore her leotard under the skirt, but I think some fun polka dot or striped pajamas would look great, too!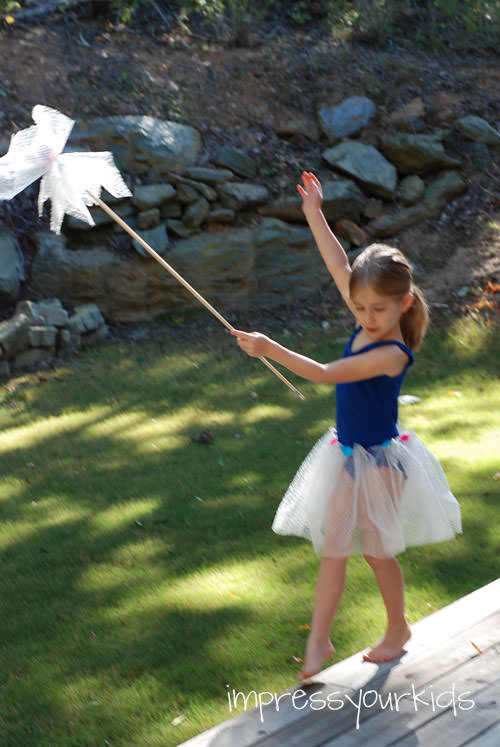 If you'd like to make the umbrella, grab a small square of bubble wrap at the end of the dowel and wrap with tape. Then continue to layer squares and more tape until you have the desired size! We did 3 layers to match the 3 colors of tape on our skirt.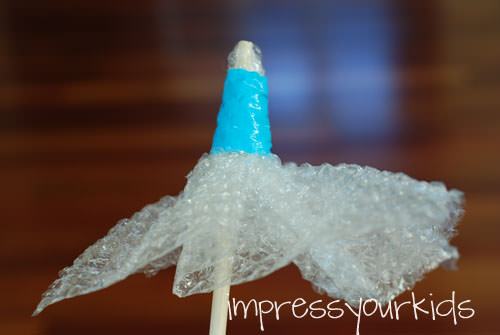 My daughter played circus for an hour at least. We found some free circus music online, we did tight rope walking on the porch steps and even on a string taped to the hardwoods in the living room. She performed, pirouetted and pretended to lose her balance.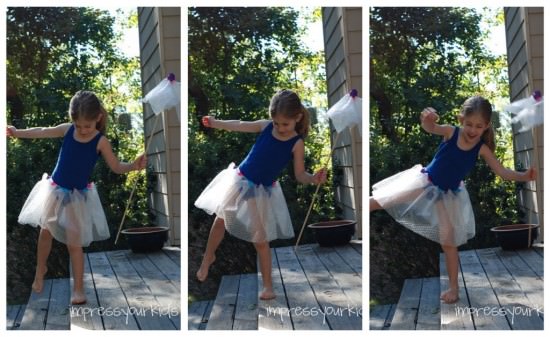 I think it was the greatest show on earth in our house!
Having fun at the circus? See my DIY Juggling Balls post and stay tuned for more circus-tastic posts next week!
Amanda is a stay-at-home mom of two who blogs at OhAmanda.com and Impress Your Kids. In her former life, Amanda was a Children's Pastor — overseeing, organizing and developing ministry for kids in nursery through middle school, but now that she is a mom, her "skills" are used up on her kids!