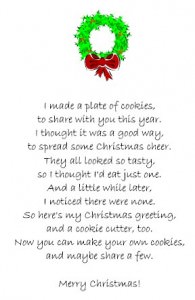 Attach this cute poem to a cookie cutter for a small gift for a co-worker, hostess gift, or a neighbor.
Cookie Cutter Poem:
I made a plate of cookies,
to share with you this year.
I thought it was a good way,
to spread some Christmas cheer.
They all looked so tasty,
so I thought I'd eat just one.
And a little while later,
I noticed there were none.
So here's my Christmas greeting,
and a cookie cutter, too.
Now you can make your own cookies,
and maybe share a few.
Merry Christmas!

Print Free File: Download