I have some crazy fun things planned for Tip Junkie this holiday season.  I'm sure that you are all gearing up for Christmas and are doing some major pre-prep work and planning.  To help you out, I thought I'd organize some of my favorite posts so you can get the most out of your Christmas this year.
Most of these ideas are completely over-the-top.  However, you can easily simplify them and tweak them to accommodate your family.  For your convenience, here are some of my favorite creative Christmas ideas organized in categories:
Organization:
Christmas Holiday Decor:
Christmas Party Ideas:
Handmade Gift Ideas:
Executive Homemaker has TONS of free printable candy gram & cheap gift ideas with poems & quotes to make it more meaningful.
For even more handmade gift ideas, you can check out the Gift Ideas category on Tip Junkie.  Many of these ideas can be tweaked to your individuals colors and needs.
Christmas Tree Decorating Contest:
Creative Christmas Card Contest:
Christmas Family Traditions:
I hope you plan a wonderful holiday season with your family!  Stay tuned on Tip Junkie as I'll be featuring new ideas in these categories and more all month long.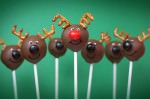 Bakerella Reindeer Cupcake Pops