Hey Ladies!  Today I'm featuring creative party favor ideas that can be easily tweeked for almost any theme.  You're going to love these tutorials and tips.  Be sure to check out more birthday party ideas which I've featured here on Tip Junkie.
Don't forget to tell these creative women that the Tip Junkie sent you.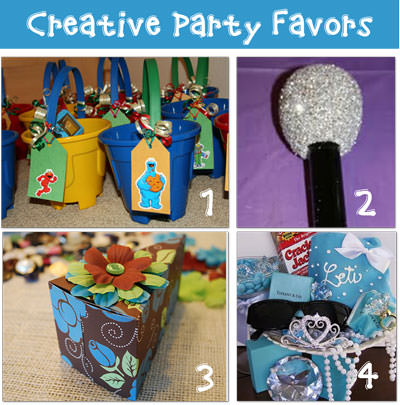 1.  MamaSheg's bucket party favors and tags
2.  Make your own rock star microphones with Cheryl
3.  Paper cake tutorial from Mrs. Jones
4.  Breakfast at Tiffany's themed party favor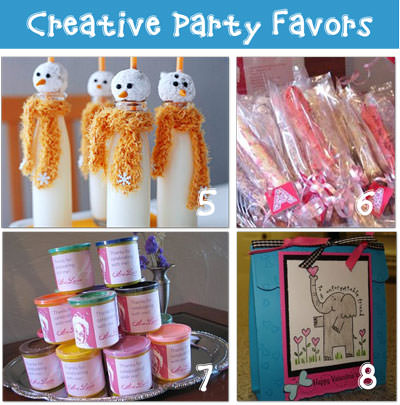 5.  Chris' mini milk bottle snowman favor
6.  Jeanne's dipped pretzels w/ monogram
7.  Jeanne's customized thank you play-doh favors
8.  Stef's elephant treat bag cover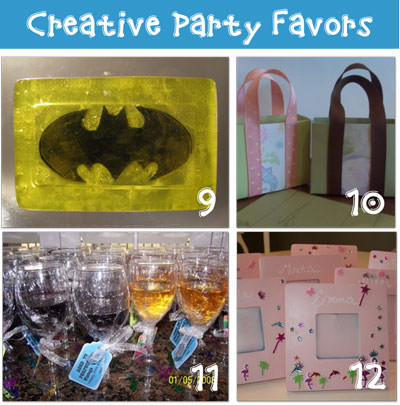 9.  Batman soap party favor tutorial
10.  Doreen's affordable way to make favor bags with cardstock
11.   Aged to Perfection Wine Glasses from Natalie
12.  Humble Pie's frame party favor and craft

a. TJ Mom-preneur Shops: Chichiboulie Boutique (10% off w/ code TipJunkie)
b. EH Mom-preneur Shops: Angelic Soaps & Gifts (Buy any two soaps, Get 1 Bar Free!)
c. Visit Our Peeps: Personalized Parties
d. TJ Giveaway Directory: $100.00 Layers Clothing ecard at 7 Clown Circus
e. Executive Homemaker: Spiderman Bingo
Subscribe to Tip Junkie and get the most creative ideas sent to you via e-mail.
It's easy!

All New RSS Feeds! Tip Junkie Blog, TJ Mom-preneur Shops, Giveaway Directory, Executive Homemaker, and join the Tip Junkie Trade Secrets Swap.