Here are 8 savory crepe recipes for you to try at home.  Each crepe recipe has pictured instructions and they are perfect for breakfast or an unexpected dinner for the family. Plus these recipes are gorgeous!
Crepe Recipe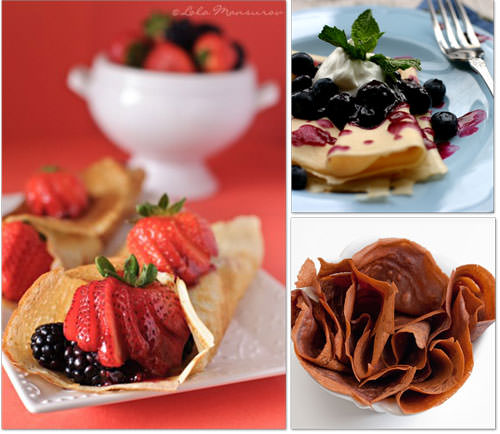 Basic Crepe Recipe – These delicious home made crepes can be filled with anything your taste desires. Step by step recipe with pictures available.
Heavenly Chocolate Crepes – You can use either natural or alkalized unsweetened cocoa for this yummy chocolate crepe recipe.  This post also includes fabulous tips on how to get the right consistency.
60-Second Blueberry Crepes: Transport yourself to Paris with a single delicious bite.
Crepe Fillings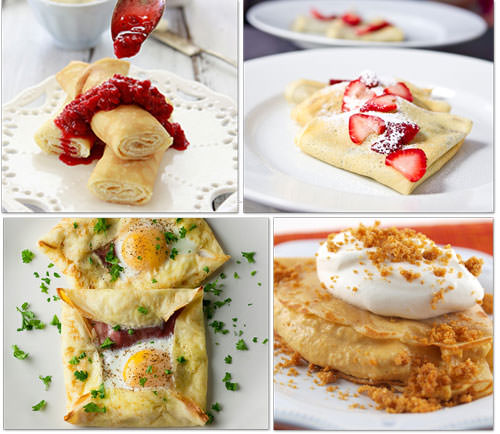 Easy Dessert Crepes with Ricotta and Raspberries – No-Fail Basic Crepe Recipe, plus ideas for eating crepes Morning, Noon and Night.
Dark Chocolate Peanut Butter and Strawberry Crepes – Filled with rich Dark Chocolate Dreams peanut butter and sliced strawberries.
Ham and Egg Crepe Squares – It's breakfast for dinner with these easy and delicious ham and egg crepe squares!
Cinnamon Crepes with Spiced Pumpkin Mousse and Graham Crumble – Canned pumpkin is a very versatile ingredient and is a pantry staple for me year round.  It's incorporated in this recipe.
Savory Crepe Recipe
Crêpes with Cream Cheese Filling – A delicious recipe with step-by-step pictured instructions.
Buttered Crepes with Caramelized Peaches: Sweet and juicy, perfect for a scrumptious summer brunch (or anytime snack!)

What is a Crepe?
What is a crepe?  A crêpe is a type of very thin pancake, usually made from flour.  French crêpes are made by pouring a thin liquid batter onto a hot frying pan or flat circular hot plate.
The batter is spread evenly over the cooking surface of the pan or plate either by tilting the pan or by distributing the batter with an offset spatula.
There are specially designed crêpe makers with a heatable circular surface which you can pour batter onto  to produce an ideal thickness and even cooking. A cooked crêpe is a very thin pancake and fun to dress up in many different flavors.
More Recipes from Tip Junkie:
If you have a recipe over on your blog, we'd love to see it! Feel free to leave the blog link in the comments or on the Tip Junkie Facebook page or right here in the comments, and I'll be happy to find it and upload it for you! {{I've got your back!}}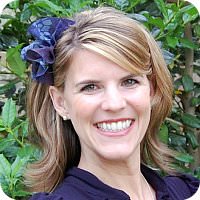 Creating Memories that Endure,
Laurie