Are you new to Tip Junkie? If so, check out our Frequently Asked Questions.
Day 12 of our Birthday Bash is focusing on tween birthday parties. Thanks to all the Tip Junkie's who submitted their parties!
Lelly submitted her You Rock party! A playground party featuring a rock climbing wall and very energetic kids!
Jennifer submitted her backyard movie party. A tween birthday party idea … projecting a movie on the wall outside. I love the invitation!
The Pagley's had a rock climbing adventure and I really liked the cake.
Amazing Mom's gives you the details on how to throw a Hannah Montana birthday party.
Forgetfulone threw a sleep over party for her daughter. She's hooked you up with lots of links for games you can play.

Being Frugal had a 70's themed party for her tween. I thought it was a fun theme, so much you can do with it.
I thought a black light dance party is a fun theme idea.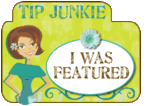 Just copy & paste the following code into your blog:
Thanks Ladies! If you don't already have an "I was Featured" button, feel free to copy the code and wear it proudly on your blog. These are amazing!

Are you looking for more birthday party inspiration? Check out my previous posts:
Day 9 – Boy Birthday Party Ideas
Day 8 – Pirate Party
Day 7 – Transportation Parties
Day 6 – First Year Birthday
Day 5 – Superhero Birthday Party
Day 4 – Twin Birthday Themes
Day 3 – Girl Birthday Party Ideas
Day 2 – Fairy Party
Day 1 – Princess Birthday Party

P.S. Don't forget to check out more birthday ideas on Executive Homemaker.