Day 3 of our Birthday Bash is going to finish up submitted ideas from Tip Junkie readers on the parties they threw for their daughters. Next up: Twins then the boys.
Melissa submitted her Sweet Shoppe Birthday party. This is her daughter's Tea for 2 with a candy theme. WOW! I really love the picture cards placed in the middle of the plates. And flower cones on the light fixture! I've got to find an excuse to do that.
Lanae submitted her Tea Time birthday party. Take a look at that face painting – incredible.
Marie threw a Care Bear party for her little sweetie. I loved this rainbow of cupcakes.
Kendra submitted her daughter's Nancy Drew birthday party. It included a real mystery to solve. What a blast!
Jo-Ann submitted her daughters Doggie Picnic birthday party. Her daughter LOVES dogs so this was a fun theme for her. Be sure to check out the Doggie Party Favors, the full Party Decor & Extras, and the Invites.
Jo-Ann also did a Sweet Party for her sweet little girl. Notice how the cartoon girl looks just like her daughter! Brilliant.  In my next life, I want to be a graphics designer. Amazing!
Ann submitted her Carnival Birthday party! You could do this for a boy or girl.
Rachel submitted her daughter's pink and orange birthday party. Fun!
Nicole submitted her daughter's Pinkalious Birthday. It's her 3 year olds all pink very girlie party complete with little glam stations.
Kerri submitted her older daughter with a spa theme. I'm loving this cake – too funny!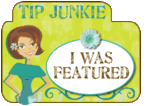 Thanks Ladies! These are amazing birthday ideas. If you don't already have an "I was Featured" button, feel free to copy the code and wear it proudly on your blog. You earned it, these are amazing!
Are you looking for more girl birthday party inspiration? Check out my previous posts:
Day 1 – Princess Birthday Party
Day 2 – Fairy Party
American Girl party Games
Birthday Game Board



P.S. Don't forget to check out Mom-prenuer products on Executive Homemaker and buy products created by women!