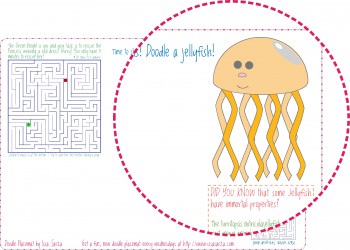 Print Free File: Download
I was reading Woman's Day magazine this afternoon and I saw an ad for placemats and I remembered back when I was a kid (well even now) that I loved doodle placemats! I wish I kept my doodles.
Anyway, this inspired me to make my own printable placemat. And because I love this so much, I will be creating a new one each week. I'm scheduling this every Wednesday so watch out for this freebie anytime on a Wednesday at my blog. For now, I'll be giving you a bonus of one more doodle placemat — one for you and your child, just in case you get a little envious.

Print Free File: Download
This one is inspired by this week's very hot weather. The weather's so hot lately and I am daydreaming of hitting the beach or going someplace where I can cool off.
To use these free files, just print them out on any A4 size paper and start doodling! You can have so much fun doodling on these placemats while you're having lunch or dinner with your kids. Bring in more fun to your kiddo's party by printing these out instead of using the regular placemats.
By the way, do celebrate Earth Day by using recycled papers when printing these cuties!
About the Executive Homemaker: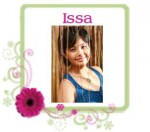 I'm Issa and I am a firm believer of using creativity in our everyday lives. I am not married (yet!) nor do I have kids whom I use my craft for but I am child inside (woohoo!) and whatever I do simply reflects my zest for creating and making things.
Join me at Issa Sarza: Creative Living and catch great ideas on how to live an inspiring and artistic life!