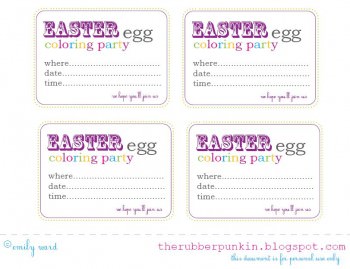 Print Free File:
Egg Coloring Party Invitation (629 downloads)
Easter… just another great reason to have a party. Here is a free printable party pack for a fun-packed Easter egg coloring party. Four invitations per sheet, designed to coordinate with the theme of the party.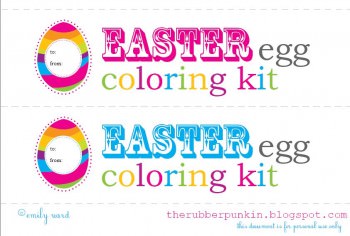 Print Free File:
Egg Coloring Kit (553 downloads)

This tag is meant to top a 12-count egg carton.  Have a dozen eggs ready for each guest.  Boil the eggs ahead of time and return into the carton.  Print out this 11″x3″ tag, mount onto a 12″x4″ piece of colorful card stock, and embellish the top of the egg carton to make it a little more special.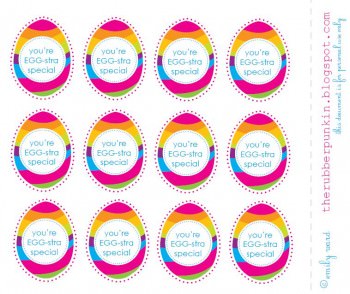 Print Free File:
Easter Favor Tags (750 downloads)

These Easter tags would be great as a cupcake topper or just tied around a sucker; perfect for a festive party favor.  Happy Easter!
About the Executive Homemaker: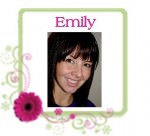 My name is Emily and I am so excited to be a contributor to Executive Homemaker! I live in the recreational state of Idaho with my gorgeous husband, he's seriously a cutie, and my two kiddos. My hubby is currently in the final semester of his graduate program and I get to stay home and enjoy Buster "J" and Lady "P."
Although my area of expertise is graphic design, I love to sew, crochet, doodle, play, and anything else that gives me a creative outlet. I have a blog of my own called
where I get to share my ideas with others and make strangers my friends. Stop by for a visit!
Blog: