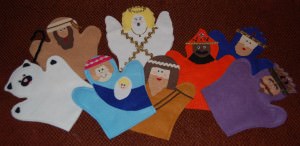 Make these felt Nativity hand puppets as an alternative to full costumes to act out the Nativity.  Make them for yourself or as a gift.
These hand puppets can be made quickly for fun Christmas story-telling and activities.  Felt bodies may be quickly glued together using tacky or craft glue.
Characters:
Mary holding Jesus
Joseph
Angel
Shepherd
Lamb
Wiseman #1
Wiseman #2
Wiseman #3
Felt requirements:
*  For suggested body colors to make all 8 puppets using 9″ x 12″ felt squares.
*  2 squares each:  Light blue, tan, gold, turquoise, purple, orange
*  4 squares white
*  Scrap Pieces:  brown, black, yellow, royal blue, light pink (for faces), white short fake fur
Other Notions:
2 black pipe cleaners (for Shepherd Staff 6″ length)
Ric rac, braided, metalic, and lace trips
12 jewel-type trims for large sequins or buttons
Small googly eyes
Character Colors and embellishments:
Mary holding Jesus:  Mary light blue felt body, royal blue sash felt, Infant Jesus white felt,
Joseph:  Gold or tan felt body,
Angel:  white felt body, gold metallic braid, gold halo
Shepherd:  Tan felt body,
Lamb:  white felt with white fur,
Wiseman #1:  purple felt body,
Wiseman #2:  Turquoise felt body,
Wiseman #3:  orange felt body,
Cut 2 pieces of felt for each body, allow 1/4″ seam allowance, leave bottom open. See pictures for details on embellishments.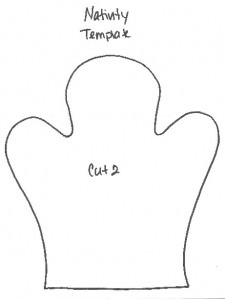 Print Free File: Download