Now that you've spent hours making/picking out the perfect gift. Why not spend a little extra time and creativity wrapping it? Here are some amazing gift wrapping ideas.
Joybucket has hooked us up with this fabric reusable gift wrap tutorial.
Design Sponge has several amazing gift wrap ideas she's featured.
Paris Hotel Boutique wrapped these gifts in a vintage music-lesson card strikes a personal note paired with a costume jewelry brooch and a bright blue ribbon.
How amazing are these named packages by Bugs & Fishes! She has hooked you up with an easy tutorial on how to do it yourself.
I've always loved the idea of using ornaments and toys as a fun gift topper but how cute are these magnet letters.

How To Tie Ribbons on Gifts tutorial
Creature Comforts has made a tutorial on how to re-purpose your grocery bags into pom pom bows. Fabulous!
Creature Comforts also has a tutorial on how to make this beautiful celery stamped gift wrap with tags.
I found this one over at Pink Owl; it's how my MIL wraps all her presents, with a classic paper and 2″ wire ribbon. Easy and beautiful.
Queen & Co altered this wine bottle. I don't drink, but you could use this idea for several types of bottles.
Shaina submitted her cloth wrapping paper; homemade reusable gift bags.
Going green this year? You can use fabric scraps and decorate as desired.
I think these mini-pine cones and pine leaves wrapped in twine is elegant.
Here's another eco-friendly gift wrapping tip; use newspaper ribbons.
My Guy Friday does what I do and designates one wrapping paper for each person. I really like her ribbons in the center or side with circular medallions.
Robin submitted her idea on how to dress up your presents with a few quick home made helpers.
I found the mother-load of free printable gifts tags over at DIY Wrap Up.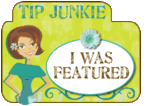 Just copy & paste the following code into your blog:
Thanks Ladies! If you don't already have an "I was Featured" button, feel free to copy the code and wear it proudly on your blog. These ideas are amazing and just what we need to make our gifts extra special this year.

P.S. Don't forget to buy from women this holiday season during our Mom-preneur Shop-a-thon! Let's support each other.