One of my favorite things is to make and give handmade DIY gifts.  Here are several ideas for babies, friends, get well, birthday, or just for fun.  Many of these techniques can be used in many different ways.
Don't forget to tell these talented Ladies that the Tip Junkie sent you!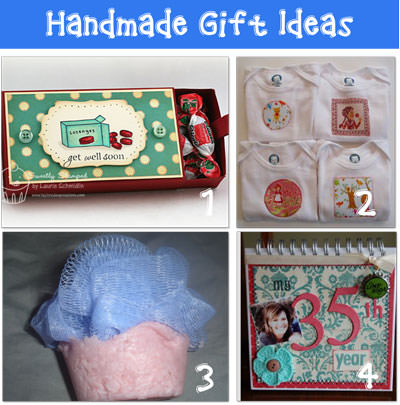 Handmade DIY Gift Ideas
1.  Just Give Me Stamps cough drop holder get well gift.
2.  Kojo Designs handmade baby gift tutorials feature.
3.  Red Mommy's cupcake bath puff.
4.  A year in the life calendar for a friend from The Polka Dot Chair. (You can also check out Cheryl's cupcake bath bomb tutorial.)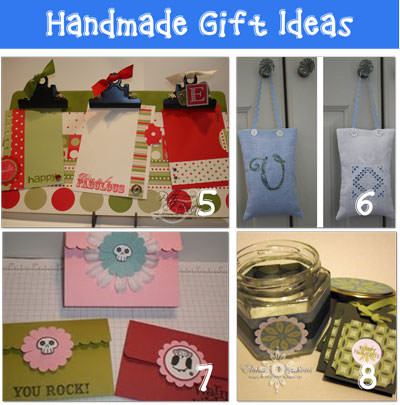 5.  Patty's Stampin Spot's 3 clip chipboard clipboard.
6.  Nini Makes monogrammed lavender bags.
7.  Easy gift card holders from Moe's Stamp n' Stuff.
8.  Elaine's Creations altered gift jar and card.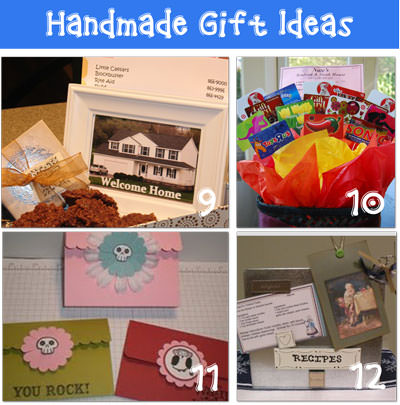 9.  Chris submitted her gift to welcome new neighbors: stamped tile coasters, phone numbers, a framed picture of their house with welcome on it and cookies.
10.  2 Clever Blog gift card kaboom.
11.  Emily submitted her personalize table tray as a gift.
12.  Brenda submitted her fun way to give a heart warming gift, daily recipes for success.
If you'd like a daily dose of fun ideas and inspiration in your mail box each day, subscribe to Tip Junkie. It's easy!