Promoting creative women is the #1 goal of Tip Junkie. Today, Beth from A to Z Stories is sharing her 5 Tips for Successful Blogging . She is sharing how she has found success and fulfillment through blogging.
In an effort to empower you, our readers and fellow creative souls, we would like to welcome you to the Blogosphere's version of the Master Class. Just like Oprah's Master Class on OWN, but for Bloggers.
What is Oprah's Master Class on OWN?
It's a biography series that shares hard-won insight from extraordinary achievers whose paths have inspired Oprah—and countless others.  There are always 3-5 lessons that viewers can take away from their shared experiences and it is truly inspiring and empowering.  We are hoping to do the same here on Tip Junkie by featuring successful bloggers.
We will be regularly featuring inspiring bloggers who have found success and fulfillment through their online endeavors. Join us and find yourself empowered through their words of wisdom.
Beth from A to Z Stories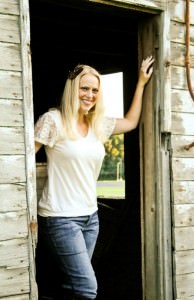 Introduce yourself to tip junkies.
Hi fellow Tip Junkies! My name is Beth from Home Stories A to Z, and I am a home blogger and addicted DIY'er. I mostly blog about projects and home improvements I make to my home; however, my blog is a bit of a variety show of home crafts, decor trend alerts, blogging tips, mantel link parties, occasional recipes, and sponsored posts & giveaways. Unlike some home bloggers, I possess zero special talents! Seriously. It's true. I'm just incredibly tenacious, resourceful, and willing to take risks. What this means for you is that if I can do it, you can too! In a nutshell, I don't take myself too seriously. I fumble through most of what I do, and most importantly, I believe in creating beauty out of chaos and sharing the stories with you!
What have you learned the past twelve months that's been a "game-changer" for your blog/business?
Oh wow. This question proves difficult for me because so much has "changed my game" in the last 12 months! I would say collaborating with other bloggers and gleaning all I can from what is working for others has enabled me to take my blog to the next level. I have a wonderful group of colleagues who freely share their knowledge and look out for each other. My advice to all new bloggers is to get on Twitter and start making friends! Collaboration is key in growing your blog.
What piece of advice have your received that you will never forget?
The first is that happiness is a choice. There are many potential pitfalls in blogging that threaten to derail your happiness such as the comparison game and dealing with negative comments. In blogging, a thick skin is a prerequisite! Not everyone will like your projects, or agree with your opinions, or appreciate your posts…and they will tell you so. Remember that you always have a choice of how to respond in these situations. Choose happiness!
The second piece of advice that has helped me is learning that all successful people share three common characteristics. They "rely on common sense, do the common things uncommonly well, and find the sense before it becomes common." If you can practice these three things, you have a good chance at finding success for yourself!
What aspect of social media is most effective for you? And why? Can you share a tip or secret for how you make it work for you so well?
I have my facebook blog page linked to my twitter account. Everything I facebook goes onto twitter automatically which saves me time and helps me spread the word faster! I also really enjoy taking part in twitter chats and highly recommend them for all new bloggers. It's a great way to meet people in your niche and glean new information.
What is one thing you make sure you do for your blog/business everyday?
Answer emails. So many of my readers are fellow bloggers, and I am honored that they take time out of their crazy-busy lives to drop by and leave a comment or question for me. I don't have time to visit everyone's blog who visits mine, but I do try to respond to all comments, questions, and emails each day. I want my readers, my colleagues, and my friends to know how much I value them!
Who do you look up to? Why?
Another really difficult question to answer! I have so many different role models in my life from authors, to celebrities, to friends, to family members. Instead of just picking one person to highlight, I will focus on the common traits that I admire in all of them. All of my role models are down-to-earth and treat people with love, respect, and empathy. They are confident, outspoken, and willing to take a risk. They are fantastic communicators and problem solvers. They have a sense of humor and a sense of humility. They are teachers and at the same time remain teachable!
Beth's Favorite Posts:
Find Beth in the Blogosphere:
Who would you like to share their words of wisdom for success? Nominate them in the comment section below and you might just see them here on Tip Junkie!