Learning how to roast a chicken is easier than you think!  It can even serve as your easiest chicken recipe and make yummy left overs like easy roast chicken sandwiches.  Here is an easy tutorial on how to roast a chicken plus 6 chicken recipes!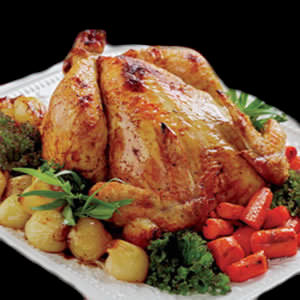 How to Roast a Chicken
How to roast a chicken in 4 simple steps from the Skinny Chef.  Check out her blog for more details:
Pickin' Chicken – Look for a 3 1/2 pound bird if serving 4.  The fat should be white and even around the bird, without bruising or yellow fat.
Chicken Prep – Rinse the chicken well under cold running water and pat dry with paper towel. Sprinkle the outside with 1/2 teaspoon of salt and preheat the oven to 350ºF.
Crisp the Skin and Roast – Coat with cooking spray and heat a large skillet over high heat. Place the bird breast-side down in the skillet and cook 2 to 3 minutes until a golden crust forms. Turn the bird over and slide into the oven. Roast 30 minutes. Decrease the oven temperature to 350ºF and continue to roast 45 minutes to an hour until the meat along the leg reaches 165ºF when pierced with a meat thermometer or until the juices run clear when pierced with a knife.
Let the bird rest for 5 minutes.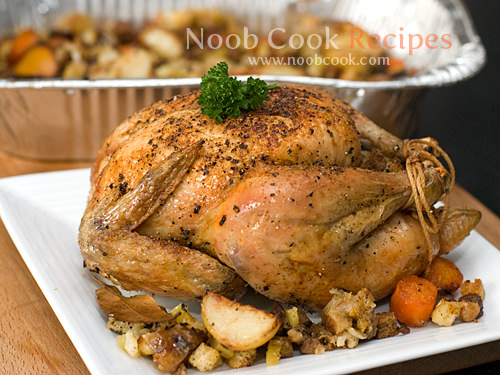 How to Cook Chicken
1.  Garlic Roast Chicken with Stuffing (Step-by-Step Photos) – A while ago, my good friend shared with me a family recipe which requires the use of stuffing mix and it looked so delicious it made me want to try it.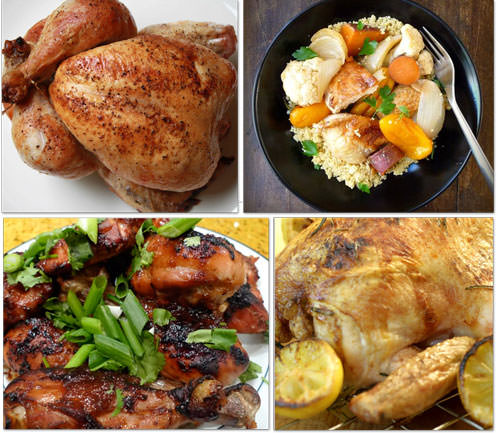 Roast Chicken
2. Simple Roast Chicken – Super easy recipe hoping that you could give your family a break from fast food for just one day a week.
3. Sriracha Marinated Roast Chicken with Root Vegetables – Spicy, fragrant and grounded with seasonal root vegetables, this is best served with couscous to soak up the juices.
4. Roast Chicken with Orange and Ginger – Place the chicken onto a lined cookie sheet. Drizzle the tamari liquid all over the chicken and roast for 45 minutes.
5. Roasted Lemon Thyme Chicken – Use the left-over lemon rinds and a handful of herbs to stuff your chicken. The meat will capture the aroma of fresh herbs without all the extra work of chopping herbs for basting.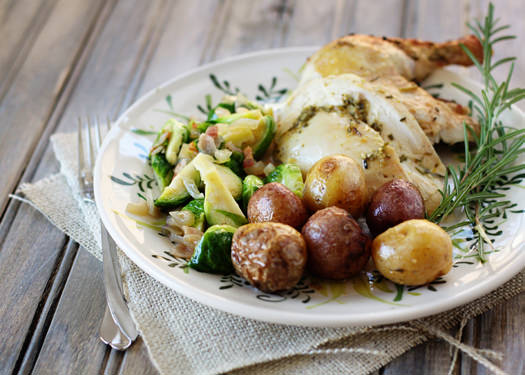 Chicken Recipe
6. Citrus and Rosemary Roast Chicken – This Citrus and Rosemary Roast Chicken was so moist and flavorful. We enjoyed it last week for dinner along with some potatoes and Maple and Bacon Brussels Sprouts.
More Recipes from Tip Junkie: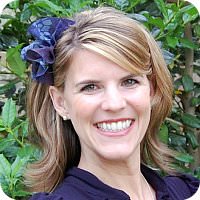 What's your favorite chicken dish that you make?
Creating Memories that Endure,
Laurie