Labor Day USA in 2010 is on Monday, the 6th of September.  That's coming up quick!  If you're looking for a fun DIY decor idea that doubles as art & crafts with your children, try these hand and foot flags from Just the Three of Us.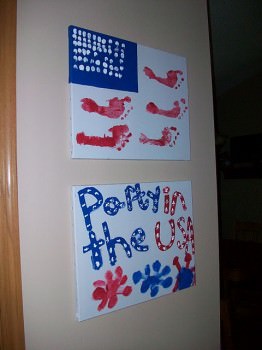 Labor Day USA
First I painted a blue rectangle for the stars and let it dry. Then I painted the bottom of their feet and pressed on the canvas. Next white paint for the stars.  For Bailey, she used her fingertip for the stars and for the babies we used their hands.
It's such a great Labor Day USA activity that's patriotic and fun for the family.  It will be artwork that you'll be able to enjoy year after year.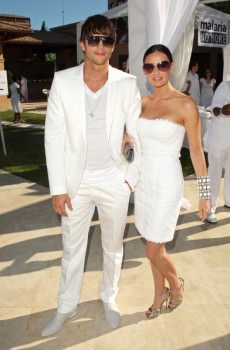 White After Labor Day
On a related topic, in case you're wondering if it's still OK to wear white after Labor day, according to Glamour the answer is yes!
The rule about no white after Labor Day is now about as antiquated as the idea of women in corsets. I've got plenty of suggestions to make sure you don't look silly once September has arrived, but by no means do you need to relegate your whites to the back of your closet until Memorial Day.
Whoohoo!  It's official.  Glamour also gives you some great tips on some general things to keep in mind once your tan starts to fade.
You Might Also Enjoy These Labor Day USA related posts