This is my last Mother's Day post as the big day is this Sunday! Here are some fun little last minute "extra's" you can do to make the day extra special.
Abby hooked us up with a tutorial on how to make these beautiful flower clips to wear on Mother's Day. I LOVE wearing flowers in my hair. You could also make some for your daughters.
Fawanda submitted her Photo Card in a Can. How exciting would this be to open up on Mother's Day. This would make an amazing Grandparent gift!
Anjeanette created an ice cream cozy, cup cozy, pencil holder as well as a rectangular container for Teacher Appreciation gifts. But you could make any of them for Mother's Day as well.
MamaKing made a tutorial on how to use a cereal box to make a cute MOM sign.
Leigh submitted her tutorial on how to make a fabric flower Mother's Day corsage using just a tea cup as a template.
You could also make fabric flowers for the special woman in your life. Display them in a vase like Going Sew Crazy and later she'll be able to attach them to an apron, shirt, or headband later! (Here's a tutorial for the frayed version.)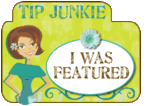 Just copy & paste the following code into your blog:

Thanks Ladies! If you don't already have an "I was Featured" button, feel free to copy the code and wear it proudly on your blog. These are amazing!
Are you looking for more Mother's Day ideas? Check out my previous posts:
* Tip Junkie Mother's Day Gift Guide
* Tribute to Mother's
* Mother's Day Activities
* Handmade Mother's Day Gift Ideas
* Get your promo code for 15% off at 1-800-Flowers
What are YOU looking forward to most on Mother's Day? Leave your wish or traditions in the comments so we can all be inspired and set our day up for success.

Do you like this post? Then favorite it by clicking on these hearts.