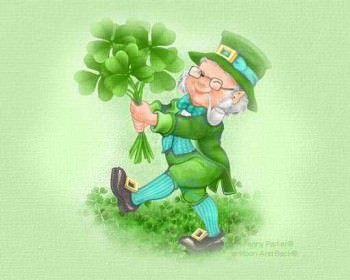 Print Free File: Download
Legend of Saint Patrick
St. Patrick's Day is celebrated each March 17th in honor of Ireland's patron saint, Saint Patrick.  Patrick was born of wealthy parents, in England, about 385 A.D. His full name was Magonus Sucatus Patricius.  When Patrick was 16 years old, he was kidnapped by Irish pirates and eventually sold as a slave.
For several years, Patrick worked as a shepherd in northern Ireland.  It was during this time that he decided to devote his life to Christ and teach the Irish his faith.  After much hardship, Patrick escaped his captors and fled to France where he began studying for the priesthood.  He soon returned to Ireland where he taught the Irish to read and write along with the teachings of Christianity.
It is believed that Saint Patrick was responsible for bringing the small shamrock plant to Ireland. He often used the shamrock in his sermons to illustrate the message of the holy trinity.  Today, the shamrock is the national flower of Ireland.
Most historians do not believe the many stories about St. Patrick. But one thing is sure, on March 17th, with many festive gatherings and much merrymaking around the world, everyone is Irish!
Leprechauns
As legend states, every leprechaun has a pot of gold hidden in a secret place, and if captured, he must give up his golden treasure. Of course, it's quite difficult to catch a leprechaun.  They are especially tricky and can often turn themselves into rabbits or squirrels to fool you into thinking they are something they aren't.  When they are caught, however, they often trick their captor into looking away, for a spit second, so that they can make their escape into the woods.
One tale is told of an Irish gentleman, after much searching and effort, captured one of the wee folk.  After much coaxing, the Irishman finally persuaded the leprechaun to take him to the very bush where his treasure of gold was buried. It's said, that the man quickly tied a red bandanna to a branch on the bush and hurried home to fetch a shovel. When he returned a short time later to dig up his treasure, a red bandanna had been fastened to every bush in the forest.
Leprechauns love to play tricks on people, causing them to drop or spill things.  They often hide keys and other belongings, just to frustrate us.  So, next time you lose a possession that you swear should be right where you left it, don't be surprised if it's only some silly leprechaun having fun and playing tricks to pass the time.
St. Patrick's Day Quiz  (Questions)
1.  When is St. Patrick's Day?
2.  Where is Saint Patrick from?
3.  What is Saint Patrick's first name?
4.  What is the national flower of Ireland?
5.  What color do you wear on St. Patrick's Day?
6.  What happens if you capture a leprechaun?
7.  What hides a pot of gold hidden in a secret place?
8.  What color is the 4 leaf clover?
9.  What happens when you find a 4 leaf clover?
10.  What did Saint Patrick do in Ireland?
11.  What do Leprechaun's like to do?
St. Patrick's Day Answers
1. Celebrated on March 17th.
2. St. Patrick is from Ireland.
3. Patrick.
4. Shamrock
5. Green
6. If captured, the leprechaun must give us his gold treasure.
7. Leprechaun
8. Green
9. Find a 4 leaf clover:  Make a wish or get good luck
10. St. Patrick taught people to read, write and Christianity.
11. Leprechauns love to play tricks on people.