Make Over Monday is a new weekly feature on Tip Junkie and features projects from readers who have re-purposed furniture, decor, jewelry, and anything else. I'm hoping you'll be inspired to turn your trash into treasure and give it a new look and home.  Submit your make over posts so I can feature you!
This weeks Make Over Monday is sponsored by Aprons by Julie. Huge thanks for their support of Tip Junkie and allowing me to do what I love.
Be sure to tell these creative women that the Tip Junkie sent you!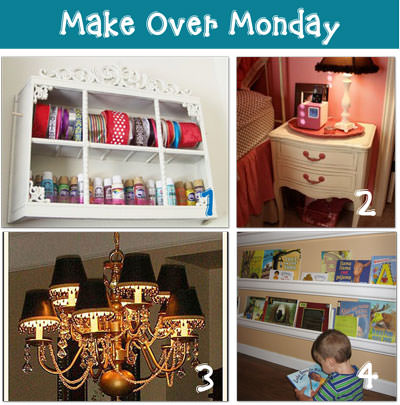 1.  Monica's gold shelf turned into ribbon rack
2. Kate's bedside table make over (found via TJ Community)
3.  Cathy's chandelier make over tutorial
4.  Kimberly rain gutter book shelves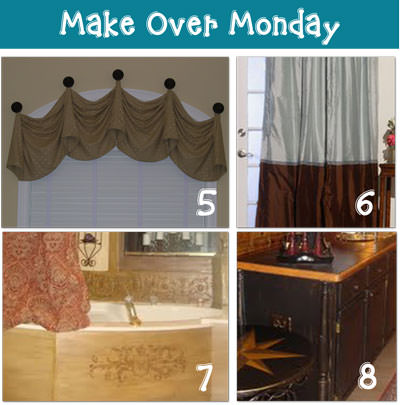 5.  Cathy's arch window decor
6. Jennifer's designer curtains on a budget
7.  Alyshia's use wallpaper and paint to create a custom tub
8.   Alyshia used bed posts to create custom kitchen cabinets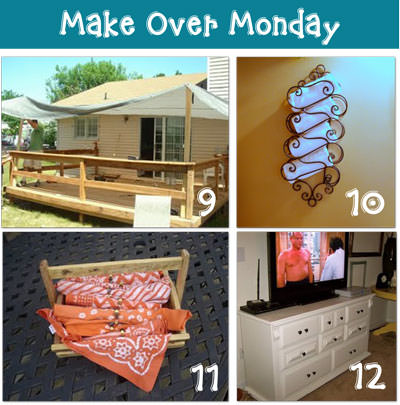 9.  Michelle refinishing a deck
10.  Jenafer repurposed a wine rack into a towel rack
11.  Lynn's repurposed outdoor dining accessories
12. Brittany's goodwill dresser becomes plasma tv stand