Make Over Monday is a new weekly feature on Tip Junkie and features projects from readers who have re-purposed furniture, decor, jewelry, and anything else. I'm hoping you'll be inspired to turn your trash into treasure and give it a new look and home. Submit your make over posts so I can feature you!
Be sure to tell these creative women that the Tip Junkie sent you!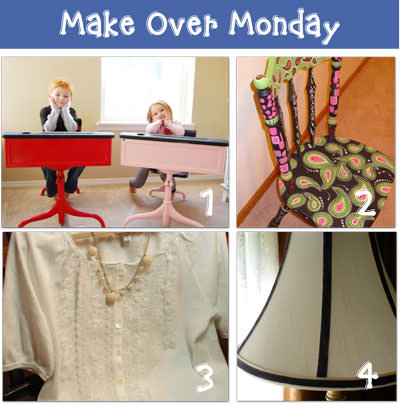 1.  Tanya's vintage chalk board desk redo
2.  Jan's $3 chair she hand painted
3.  How to transform plain cardigan to something beautiful
4.  Jan added a little drama to her lampshade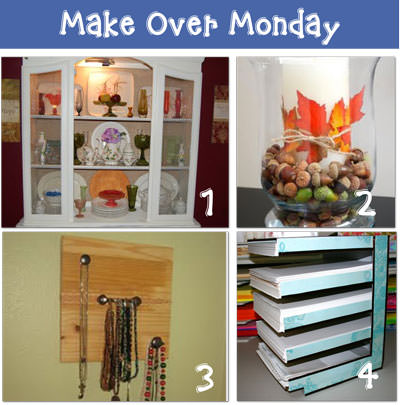 5.  Heidi's painted hutch
6.  Kara's Ballard Designs knock-off hurricane vases
7.  Alissa's simple and inexpensive necklace holder
8.  Darcy's altered letter tray

a. TJ Mom-preneur Shops: Designer Blogs (10%off Tip Junkie referral discount)
b. EH Mom-preneur Shops: Whitney Gillis Designs (free shipping w/ momshop)
c. Visit Our Peeps: The Painted Cookie
d. TJ Giveaway Directory: Bei Bambini HUGE Gift Set Giveaway! $500 value
e. Executive Homemaker: Don't Eat Casper Game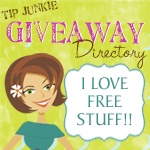 It's holiday shopping season!  Cash is tight, so why not  Subscribe to receive a listing once a day of what's being given away on the Tip Junkie Giveaway Directory?
It just might help you stock up on some free gifts!  Usually, you just have to comment to enter.  It's easy!
Upcoming Tip Junkie Events:
TJ Community Mom-prenuer of the Week:  Inspire Your Walls
TJ Community Tuesday Giveaway:  $35 gift card to Inspire Your Walls. (I'll post the link on tomorrow!)
Talk To Me Tuesday, tomorrow Oct 26th: Why do you Blog?
Trade Secret Swap Reminder: Mail your package by Saturday!