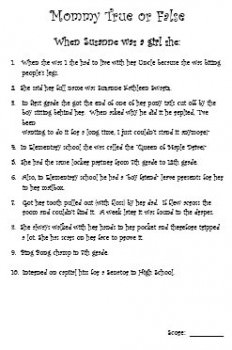 Print Free File: Download
Really get to know the mother-to-be with this fun game. Call her husband or mother to get the information you need. Below is an example.
Mommy True or False
When Susanne was a girl she:
1. When she was 1 she had to live with her Uncle because she was biting people's legs.
2. She said her full name was Suzanne Kathleen Swartz.
3. In first grade she got the end of one of her pony tails cut off by the boy sitting behind her. When asked why he did it he replied, "I've been wanting to do it for a long time, I just couldn't stand it anymore!"
4. In Elementary school she was called the "Queen of Maple Drive!"
5. She had the same locker partner from 7th grade to 12th grade.
6. In Elementary school he had a "boy friend" leave presents for her
in her mailbox.
7. Got her tooth pulled out (with floss) by her dad. If flew across the room and couldn't find it. A week later it was found in the drapes.
8. She always walked with her hands in her pocket and therefore tripped a lot. She has scars on her face to prove it.
9. Ping Pong champ in 7th grade.
10. Interned on capital hiss for a Senator in High School.