It's the seventh week of our Tip Junkie Holiday Shop-a-thon where I spotlight the most popular products from a few of the stores in the Tip Junkie Mom-preneur Shops as gift giving inspiration.
The Tip Junkie Challenge:Â To buy your gifts from women & fellow bloggers and ask others to do the same for you this holiday season. Your friends and family are going to be blown away by your thoughtful gifts this year!

Angel Ellie's painted tile coasters, tile magnet sets, painted tile trivets and custom photo coasters are just some of her favorite things to make. Wholesale and custom orders are always welcome.
1. Eye Owl Coasters (set of 4), $15
2. Personalized and Custom Photo Tile Coasters (set of 4), $18
3. Winter Blue Snowflake Single Tile Coaster, $4

Joey & Chase products are perfect for any occasion, my designs are one-of-a-kind and will be the perfect accent for any Mom, Grandmother, Aunt, Daughter, Sister, Friend, or Bridal Party! Also available are Watches, Cell phone charms, and Boy name bracelets.
4. Any of my lampwork, price varies with listing
5. Memorial Bracelet, $55
6. Bracelet Watch, $65

We all love saving money and buying a Grow With Your Girl item from Livi Lu Originals is a fun way to save. They will last you a full year! The elastic waist stretches for growth around the middle. As your girl grows taller they become capri pants!
7. Boutique Bottoms, $28
8. Peasant Dress, $30
9. Peasant Swing Top Set, $68 (set)
Shop:Â Livi Lu Originals


Adorn Me specializes in beautiful handcrafted jewelry made for all bods: extra small to extra large, and everything in-between, and specializing in custom designs! We focus on sensual, beautiful designs for every bod.
10. Aqua Sakura Flower Adjustable Ring, $17
11. Adorable Little Birdies Earrings in Silver, $17
12. Vintage Bead Earrings with a Modern Twist, $25
Buy from Women this Holiday Season!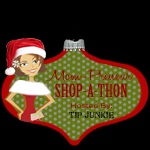 Copy & paste the following code into your blog:
<a href="http://tipjunkie.net/shop" target="_blank"><img src="https://i375.photobucket.com/albums/oo196/ChicChickMedia/shopathonbuttontypochange.png" border="0"/></a>
<— Take the pledge! {{hugs to those who participate}}