A great way to display your child's hand prints or give as a gift to Grandma. You could also use this as a play day activity.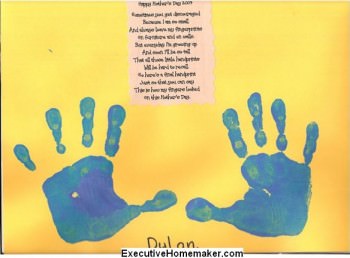 Print Free File:
Hand Print Poem (1174 downloads)
Mother's Day Hand Print
I miss you when we're not together
I'm growing up so fast
See how big I've gotten
Since you saw me last?
As I grow, I'll change a lot,
The years will fly right by.
You'll wonder how I grew so quick
When and where and why?
So look upon this hand print plaque
That's hanging on your wall.
and memories will come back of me,
When I was very small.
Happy Mother's Day!
How to make:
1.  Print Poem out on cardstock.
2.  Cut in half.
3.  Paint the child's hand and place on the left side of the poem.
4.  Glue Poem onto colored paper or frame.
You can glue a ribbon bow at the top to give it a little extra something.