I have some crazy exciting Oscar news! To celebrate the best in entertainment, red carpet fashion, and gorgeous celebrity sightings, Glam.com has launched a new community for the Oscars and I'm here to hook you up! {{squeal in delight}}
That's right, our fabulous friends over on The Blog Frog, are giving us an easy place to share all of our excitement for the Oscars and Glam.com is dishing out some serious prizes for the launch party, $1500 worth. Now's your chance to enjoy the swag and glamor of a red carpet party ~ from your couch! {{giggle}}
When is the Oscars?
The Oscar show is coming up quickly as it airs this Sunday, February 27th at 8 pm (5 PST).

Why Join the Red Carpet Community?
You might be asking yourself, "Um Laurie. What's it it for me anyway?" Great question, I'll tell you:
Connecting with other women who love fashion, movies, and entertainment!
Glamorous party ideas, recipes, and fun games and printables to host your own Oscar party or to just be inspired with crafty eye candy.
A chance to win $1,500 Oscar GLAM prizes all week long: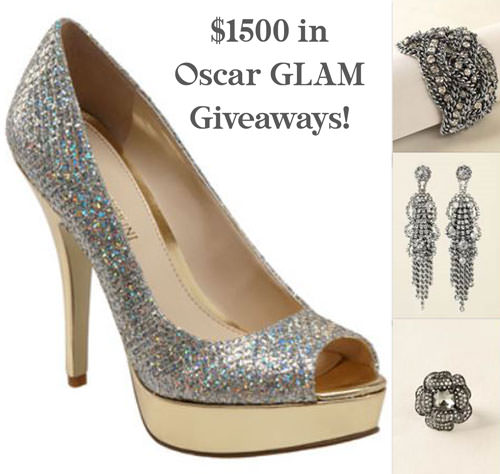 Let's Dish About Oscar
There is already so many fun discussions going on in the Red Carpet Community including:
Just to name a few!
Head on over to the Red Carpet Community to join in the discussions and enter to win $1,500 in prizes just for participating! It is so easy to get started, all you need is an email address to start your account, and it's FREE!

I'll be over on the Red Carpet Community all week as well as chatting live during the Oscar show. I just can't get enough! Help me spread the word with a quick tweet: Tweet
LIVE DISCUSSION – Red Carpet Style, Weds 2/23 6 p.m. CST
,
Laurie