Who knew pork was healthy? Apparently the US Department of Agriculture did a study that compared a skinless chicken breast to a pork tenderloin and they both met the "extra lean" classification.
So, in honor of the "other white meat", here are some fabulously tasty Pork Tenderloins and recipes for you to fix up on the grill or in your oven.
On The Grill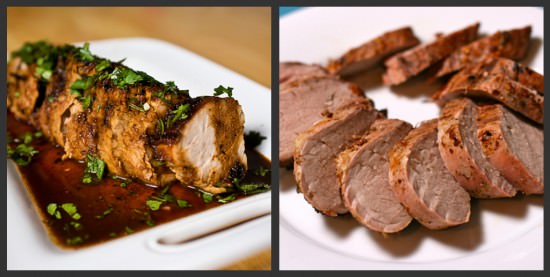 1. Grilled in a Honey Lime Chipotle Marinade –  This pork tenderloin recipe had me at Chipotle! I've acquired a need in recent years for spice in my life – this fits the bill. It even adds some cilantro to the mix with the honey and lime! A tasty mix.  This recipe calls for overnight marinating for optimum taste so keep that in mind. Enjoy!
2. Spicy Grilled Lemon and Rosemary Tenderloin A simple marinated pork tenderloin that can be made less spicy by removing the red pepper. This recipe is fabulous because it's quick and requires ingredients that many of us have on hand. Throw it on the grill and voila! Another tasty pork tenderloin.
In The Oven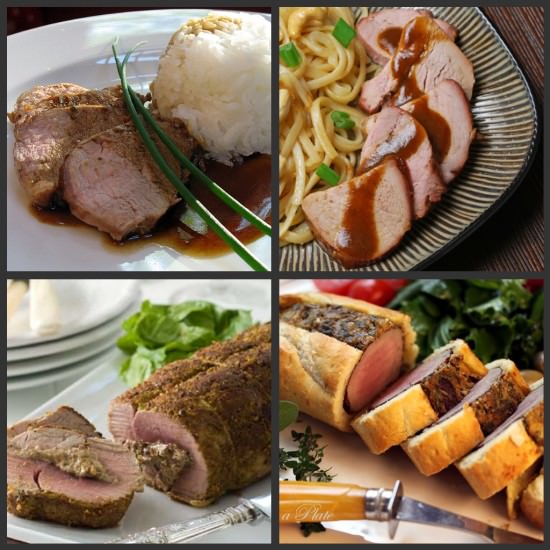 3. Balsamic Pork Tenderloins Combine garlic, rosemary and balsamic and you get this easy oven roasted tenderloin.
4. Asian Infusion Tenderloin Marinade a tenderloin with an Asian inspired set of ingredients for a tasty spin on this cut of meat.
5. Pistachio Cranberry Goat Cheese Stuffed Tenderloin (Gluten-free) Goat cheese stuffed with a pistachio crust – Yes Please! This recipe calls for browning in a pan prior to roasting.
6. Tuscan Style Tenderloin I was smitten with the bread around this tenderloin. There's just something about a crusty baguette that adds extra comfort to food. On a cold night or for a hearty dinner party meal option, this spin on the tenderloin is a must try!
What is a Pork Tenderloin?
A Pork Tenderloin is one of the leaner cuts of pork. With that in mind, it's important not to overcook it because it will dry out. Many recipes make mention of watching the time.  Additionally, it should get to 160 degrees to ensure it's fully cooked.
More Recipes from Tip Junkie
Post contributed by Nicole at Moments That Define Life. Nicole is a stiletto wearing, Cabernet sipping Mama to three girls. She has spent the bulk of her life being a bad cook. But, she has reformed her ways and vows to improve her skills each day in an effort to keep her husband. Her efforts are lost on her children, who respectfully prefer chicken nuggets and PB&J's.