Crispy fried, seasoned shrimp piled high on French baguette.
---
Sauce
1 c. Mayonnaise
⅔ c. Ketchup
3 Tbsp. Horseradish sauce
½ Tbsp. to 1 Tbsp. Creole seasoning (depending on how spicy you like it)
½ tsp. Garlic powder
½ tsp. Paprika
1 Tbsp. Lemon juice
Buttermilk Mixture
1 pound Shrimp (we used large)
1 c Buttermilk
2 tsp. Creole Seasoning
Dry Mixture
1 c Cornmeal
1 c Flour
campaignIcon
1 Tbsp. Creole seasoning
1 tsp Fresh ground black pepper
The Sandwiches
French bread (or hoagies)
Lettuce, shredded
Tomatoes, Sliced
Above creole sauce
Step by Step Instructions
Step 1

Preheat oil in a deep fryer or large pot to 350 degrees.
Rinse, peel, devein shrimp. (remove tail)
Mix buttermilk with 2 tsp creole seasoning in a medium bowl, add shrimp.
Mix cornmeal, flour, 1 Tbsp creole seasoning and black pepper in a large bowl.
Working in batches, remove the shrimp from the buttermilk and transfer them to the dry mixture. Dredge to coat, shake to remove any excess.
Cook the shrimp in small batches in the oil until golden brown and crispy, 2 to 3 minutes.
Remove with a slotted spoon and transfer to paper towels to drain.
Assemble po' boys as desired.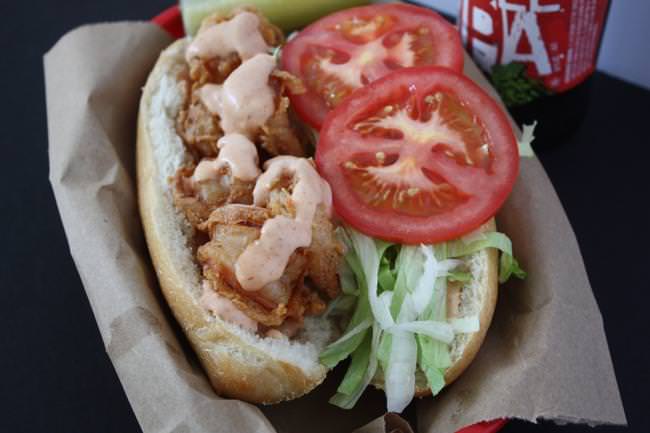 Reader Interactions