Today I'm branching out a bit on Tip Junkie and featuring 9 mouth watering risotto recipes for us to try.  Each one with a unique flavor, and completely different sauce recipes. I just couldn't resist showing you these gorgeous pictures of risotto recipes.  Don't they look so yummy!
Risotto Recipe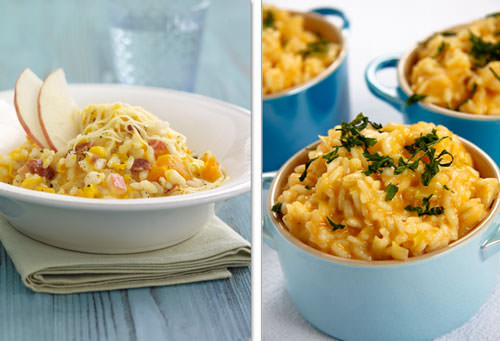 Leerdammer, Vegetable and Bacon Risotto – A delicious warming recipe, perfect for any time of the year. The Leerdammer really sets it off!
Cheesy Leek Risotto – Deliciously creamy and flavorful with a spicy twist.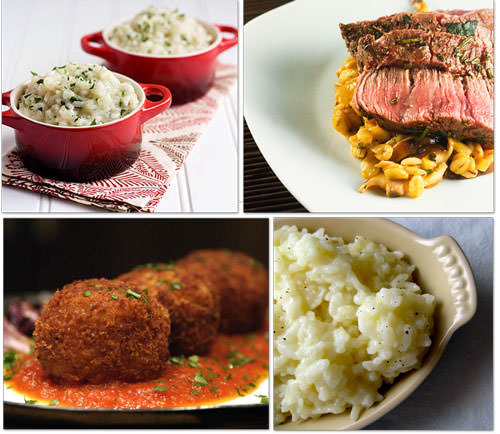 Roasted Garlic Risotto – This recipe is good and the type of food that sticks to your bones.
Steak with Wild Mushroom Barley Risotto – This is my favorite discovery and one of the best I've ever made. And it's healthy to boot!
Carrot Ball Risotto – A symphony of leftovers: carrot arancini with homemade tongue pastrami inside.
Forget the Stove Risotto – Why stir for hours when the oven can do the work? It's baked.

Tomato Risotto Recipe –  This version has a decidedly Indian sensibility.
Risotto Milanese – This is made with wine, chicken broth, onions, garlic and saffron. It's simple, creamy oh so scrumptious.
What is Risotto?
Are you wondering what is Risotto?  Well, it's an Italian rice dish. It is made by briefly sauteing the rice in olive oil or butter (often with some onion), then adding a little bit of stock, stirring almost constantly until the rice absorbs the stock, then adding a bit more stock, stirring, adding, stirring, adding until it's done. It usually takes between 20 and 30 minutes of stirring.
When it's done, the rice is cooked through and bound in a wonderful creamy sauce that is made as the starch leaches out of the rice grains and combines with the stock.
Do you have a yummy recipe on your blog? Feel free to share it with us! Simply leave the link in the comments or upload a photo to the Tip Junkie Facebook page. I adore hearing from you. {{wink}}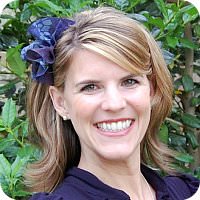 Creating Memories that Endure,
Laurie