More free printable cards? You bet! Not only are we hooking you up with some darling free printable sight word cards, but also 25 fun ways to use them with your kids!  I just adore free printable games that also help educate.  So enjoy!
Ok, we covered letters and the alphabet, and counting and numbers.  Did you print yours?  If not, they are still available to grab here and also here.  What cards will be next?  Simple sight word cards!  I've included 18 of the most used words, the color words, and a whole sheet of blank cards.  Just print and cut apart.  These cards can be used in so many ways…even more so when you use the blank cards. I've tried to come up with 25 great (and fun) ways to use the cards.  Most of these suggestions will be for younger children, but there are some fun activities for the older ones, too.  Once again, these activities are suggestions.  You know your student best.  Please feel free to modify these activities to suit your needs.
Sight Word Cards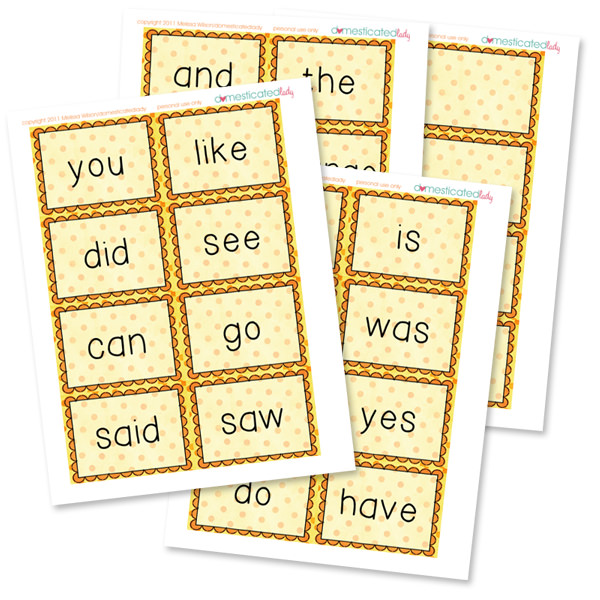 Print Free File Here:
Sight Word Flash Cards (10684 downloads)

25 Fun Games for Sight Word Cards:
After you grab your cards, here are some fun ways to use them!
1.  Use the color word cards to label colors you find around the house.
2.  Use one color card and glue it to a sheet of paper.  Use old magazines to find pictures of that color and glue onto your sheet.  Do this for each color, attach them together, and make a book!
3.  Choose a sight word card and read a story together.  Using the card as a visual clue for the child, make a funny noise every time he/she sees the word.
4.  Use the cards like flashcards and run through the cards until your child is a whiz at these words.
5.  For older children, put the words in alphabetical order.
6.  Print out a set of word cards for each child, set them up 3×3 or 4×4 and play bingo.
7.  Using the word cards as your guide, use the letter cards from before to spell out each word.
8. Count the number of letters in each word.  Label it using your number cards.
9.  Laminate the cards or put them in plastic badge holders.  Trace the words with write-on/wipe-off crayons.
10. Using the card as your guide, write the first letter of the word on the first line of paper.  Then continue on the next line with the first two letter; third line, first three letters until the word is complete.
11. Lay out all the cards on a table face up.  Call out a word.  Race to see who can find it first, or if playing with one, use a stopwatch to see how fast the card is found.
12. Play hopscotch!  Lay one card in each square.  You have to read the word before you can jump and land in that square.
13.  Using the cards as your guide, write the words on a chalkboard, a dry erase board, or paper.  Write them first with a dark color, then trace over it in different colors.
14.  Build the words out of blocks, dough, or finger food!
15.  Using the card as your guide and your index finger, write the word on a friend's back.  Can they guess the word?
16.  Print out several copies of the words and play Go Fish!
17.  Give the child an old book or magazine and a highlighter.  Using the cards, find and highlight words in text.
18. Print two copies of the word cards and play the memory game. You have to say the word when you find the match.
19. Practice out loud.  Say the word on the card, spell it, then say it again…all out loud.
20. Sort the cards by number of letters.  Which words have 2 letters? 3? Which word has the most letters?
And some ideas for your blank cards…
1. Use the blank cards to write easy action words like walk, run, yell, cry, etc.  Use the cards to play charades.
2. Use them for spelling word flash cards.
3.  Use them for vocabulary words. Write the word on one side and the definition on the other.  Quiz by definition or word.
4. Write words on the cards that are age appropriate for your child.  Use them to build sentences.
5. Punch a hole in each card and put them together on a binder ring to keep and use!
More Free Printables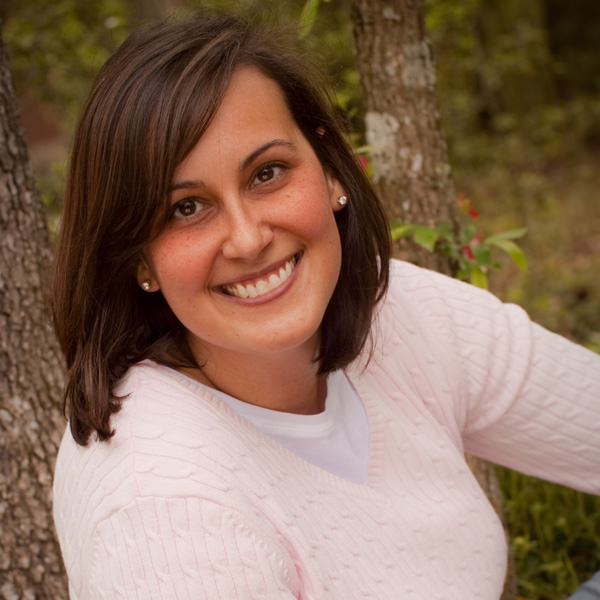 About the Author….I am Mel Wilson, a SAHM to two great elementary aged kiddos, a proud Army wife, and a 'retired' elementary school teacher. I'm so happy to have the opportunity to share with you! I love combining my education background, my love of cute printables, and my crafty side to build FUNctional learning activities. When I'm not sitting in front of the Mac, I also enjoy family time, baking (but not cooking), and Dr Pepper.  I share all of my crafty adventures on my blog, Domesticated Lady and have even more to offer in my Etsy store!