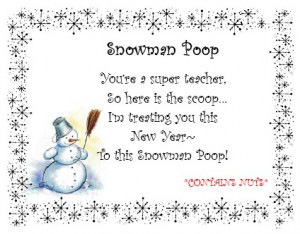 Attach this cute poem to the goodies for a small gift for a hostess, co-worker, or neighbor.
Snowball Cookies for Snowman Poop
2 cups of all purpose flour
½ tsp. Salt
¾ cup softened butter
½ cup sugar
1 egg
1 tsp. Vanilla extract
1 cup chopped walnuts (optional)
confectioner's sugar
Preheat oven to 350F. Grease cookie sheets lightly with unsalted shortening.
Sift together flour and salt. Work butter in a bowl until creamy. Add sugar and beat until well blended. Add egg and vanilla and beat well. Gradually add sifted dry ingredients, beating well after each addition. Add walnuts.
Shape dough into small balls – ¾ in. in diameter. Place balls 2 in. apart on prepared cookie sheets.
Bake 12-15 min. or until lightly browned. Roll balls in confectioner's sugar while still warm. Roll again in sugar when cooled. Store these in a tight container.
Snowman Card Poem:
Snowman Poop
You're a super teacher,
So here is the scoop…
I'm treating you this
New Year~
To this Snowman Poop!

Print Free File: Download