St. Patrick's Day Bingo is a fun party game you can quickly print out and play!  This is a free printable or instant download of  St. Patrick's Day Bingo Cards which is an easy game to play with kids of all ages at a green day party, school party, or just for fun.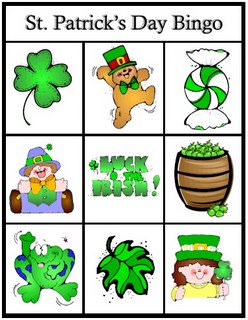 Print Free File:
St. Patrick's Day Bingo (6793 downloads)

How to Make:
1.  Print out the Bingo cards and images.
2.  Cut out – make sure you leave a little white space.
3.  Cut green cardstock or paper a little larger than picture.
4.  Glue picture to cardstock.
5.  Laminate.
The Rules for Playing Bingo:
1.  Pass out a Bingo card to every player.
2.  A caller pulls out a picture card from a bowl or other container.
3.  Check to see if you have that picture on your Bingo card. *  If you do place a M&M or other "marker" on that picture. *  If you do not, do nothing.
4.  If you are the first to fill three pictures in a row vertically, horizontally, or diagnally, you yell "BINGO!" loudly, so that the caller can hear you. Then you win.
St. Patrick's Day Images:
1.  Tree
2.  Worm
3.  4 Leaf Clover
4.  Alligators
5.  "Luck of the Irish"
6.  Bird house
7.  Basket
8.  Peppermint
9.  Peas
10.  Boy
11.  Teddy Bear
12.  Frog
13.  Bushel of Apples
14.  Girl
15.  Leaf
16.  Heart
17.  Snail
P.S.  Join the conversations over on the Tip Junkie Facebook page.  It's a great place to ask questions on how to make things or for specific tutorials you need.
Promoting creative women through their tutorials,

craft rooms,

  and products.

~ Laurie  {a.k.a. the Tip Junkie}