Today, I'm featuring several tips that have been submitted by Tip Junkie readers. I have the best readers! Thanks for taking such good care of me.
If you have a fabulous post you'd like featured, submit it! There is a 2 week wait list, but keep 'em coming. I love all the different tips you send me.
Aurora submitted her wall canvas. It's not only art, it doubles on how to remind to your kids to do those things that you yell to them over and over.
Paula submitted her "one for the road" goodie bags she made for traveling family.
Katie submitted these photo collages. Her tip is that photo collages are really cute and make nice gifts for friends and family.
Collette submitted her Shopping List planner. She likes to shop and use coupons, but it's a challenge to keep all the deals, scenarios and coupons straight. So, she created a simple Shopping List Planner to help keep your shopping trip organized and stress free. The form is in PDF format and is free to download as many times as you like!
Jennifer's tip is how to make a plain picture frame worthy of gift giving.
Beth submitted her boredom buster tip, coloring in a fun, creative way!
Kelsey submitted her grated butter tip. Grate butter for baked items and your dough will blend perfectly!
Caren used an engraved dog tag on my son's beloved stuffed squirrel hoping that people will call if it ever gets lost.
Tiffany's tip is to swap books online instead of going to library/bookstore.
Shauna submitted her edible lighthouse centerpiece. Holy Cow!! That's amazing. This could be used for several religions as many of us use lighthouses in symbolic lessons.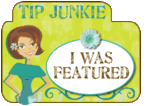 Thanks Ladies! If you don't already have a "I was Featured" button, feel free to copy the code and wear it proudly on your blog. These are great!