Are you new to Tip Junkie? If so, check out our Frequently Asked Questions.
Hey Ladies! Time to spotlight some fun women and their current projects. If you have a blog post you'd like me to feature, submit it.
Jackie submitted her Photo Scavenger Hunt List. A scavenger hunt idea for the pre-reader; make your own using your photos or magazine clippings or download weelifes pdfs for free.
Kathryn submitted her simply sweet handmade cards.
Maria submitted her crafted lettering. She decorated these cardboard letters to help tie the room together and to creatively display my daughter;s name. Maria just used scrapbooking paper and embellishments with some strong glue.
Chelsea submitted her post on how to make your own baby food.
Tori submitted Green Cleaning made simple. How to clean with baking soda, frugal and environmentally friendly.
LuAnn's doing some Christmas sewing and submitted her ideas for creating pouches using Bend-the-rules-sewing by Amy Karol.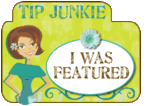 Just copy & paste the following code into your blog:
Thanks Ladies! If you don't already have an "I was Featured" button, feel free to copy the code and wear it proudly on your blog. These are great!

P.S. Don't forget to buy from women this holiday season during our Mom-prenuer Shop-a-thon! Let's support each other.