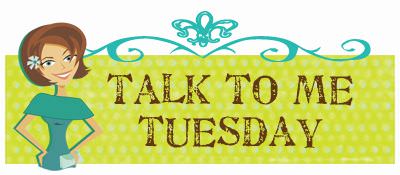 I brows a LOT of blogs and I'm constantly wondering, "What would be this persons favorite post?"  You know the one that really showcases your talent, or the post you really poured your heart out and was real, or an informative post.  So here's your chance!
If you had 1 blog post that you wanted all of your readers to know about – what one would it be?  Add your URL link to Mister Linky below.
For example, I love my post on Blogging 101 – What not to do.  However, I think its a little "kurt".  It wasn't meant to be and I probably need to re-write it in a more friendly tone.  So instead I'll link my all time favorite post below.
How to Play: Link your last favorite blog posts to this post using Mister Linky. You must include my a link back to this post on Tip Junkie in order for your links to be eligible to play.  (Simply edit your post and add the "Talk to me Tuesday" banner or a link back to this post.)
Entries will only be allowed until Saturday at 11 am Texas time to avoid spammers. Also, only link to your Talk To Me Tuesday post not your home page, those will be deleted. If you haven't used Mister Linky before, here's the low down (a.k.a rules).
YAY! I can't wait to read your favorite posts you've written by clicking on your links below.