Are you new to Tip Junkie? If so, check out our Frequently Asked Questions.



I know, it's not Thursday but I'm missing the fabulous tutorials that I usually feature each week. I can't help myself, I've got to give you a little peek to what other bloggers have been up to. I hope you'll be inspired to learn something new by these tutorials.
Cooking: Dana submitted her canning tutorial, Basil-Garlic Tomato Sauce. It's a step-by-step of how to can those summer tomatoes in a yummy basil-garlic sauce.
Cooking: Kimberlee submitted her Chicken and Asparagus Dinner which works for Weight Watchers or any other diet plan.
Design: Minna submitted her apple wreath tutorial.
Entertaining: Um, WOW! Look what I found over at Totally Tabletops. It's not a tutorial but I had to show you this party mural.
Entertaining: Look at this preppy baby shower idea board from Tastefully Entertaining. I'm digging the "ribbon belt" napkin holders.
For the Kids: Laura submitted her days of the week clothing tags. It's a great way to empower your kids, and be a little more organized in the mornings.
For the Kids: Steph submitted her Dino Feet. A tutorial on making dinosaur feet with your monster lover or fashionista.
Gift Idea: Joanna submitted her post on an easy way to make a sassy drink koozie!
Craft: Kathleen submitted her tin ornament tutorial. Make a tin ornament out of the top of a frozen concentrated juice can.
Scrap Craft: Susan submitted her picture frame for each month of the year tutorial for shower gift or decoration.
Scrap Craft: Sarah submitted her tutorial on altering a board book into, a scrapbook, photo album, recipe book, etc.
Scrap Craft: Summer did a little scrapbooking outside the box and scrapbooked an old barn window. Fabulous!
Sewing: Little Birdie Secrets submitted her easy make-up bag tutorial.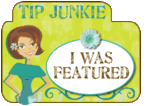 Just copy & paste the following code into your blog:
Thanks Ladies! If you don't already have an "I was Featured" button, feel free to copy the code and wear it proudly on your blog. These are great!
If any of you have taken the time to post a tutorial submit it and I'll feature you!

P.S. Don't forget to buy from women this holiday season during our Mom-prenuer Shop-a-thon! Let's support each other.